I recently returned from Bloggers on Bourbon, a fabulous bloggy meetup where we did all sorts of fun activities for three full days. I have to say that the trip was insanely affordable for everything that was included in our $55 ticket price, but Makaboo also provided sponsorship to help me attend.
If you're not familiar, Makaboo (pronounced make-a-b00) is a website where you can create personalized gifts for babies and toddlers. Makaboo's owner came up with the idea for the website when she realized that she could customize boutique baby gifts and make them into much-adored keepsakes for about the same price as you could find the same or similar items at Saks, Nordstrom and other high-end stores.With brands like Swaddle Designs, Angel Dear and 3 Martha's, Makaboo is a one-stop site to find an absolutely perfect baby shower gift for just about anyone you know.
Since Makaboo wanted me to get (and share!) the full experience of their shopping process, they gifted me with a certificate to place an order through Makaboo.com. As Haiden's been getting bigger, it seems like Piper has been getting the lion's share of adorable clothing, while his selection has been reduced to brown and navy trucks, bugs and lions. Because of that, I was excited to see something super-cute I could get for him. I immediately pounced on the Angel Dear Classic Hoodie jacket. I'm familiar with the Angel Dear brand, and I know that they make the softest baby products ever. I knew from the looks of the pictures and from previous experience that the hoodie would be soft and snuggly. On top of that, I could have it customized!
I clicked on the color I wanted (Apple Green) and then selected the size from the drop-down menu. Then I clicked on the Personalize this Gift button to move on to the next step. The next page allowed me to choose my thread color, font and text. Since I had a general idea that I just wanted Haiden's initials on it, it took all of 30 seconds to complete the customization step. I even got to preview the sweater exactly how it would look after the embroidery was done. After that, there was a nice and appreciated control to double-check the spelling on the piece before moving on to the checkout process. The order was completed with a checkout process similar to any other online store.
Overall, the entire customization and order placement seriously took less than 3 minutes. It took way longer for me to browse, drool, then select what I wanted to buy than actually personalizing the piece and placing my order. Then, to add to their speedy reputation, Haiden's Angel Dear sweater arrived just two days after I placed the order! I had selected standard shipping and the order was shipped via UPS Ground, but this really speaks to how quickly the goods are customized and produced for shipment!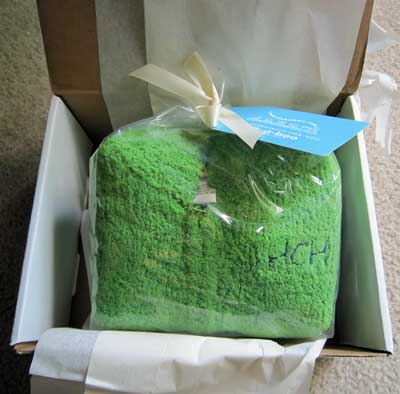 The sweater arrived and it is absolutely, fantastically cute! The color is a stunning bright green, and Haiden looks a bit like Oscar the Grouch (in a good way!) when he wears it. One of the best things about Makaboo was that the order was packaged extremely well in a gift-worthy bag and box. They really understand that their products are intended to be given away, and they're packaged with exactly that sentiment.
Makaboo takes gifts that are fabulous on their own and turns them into keepsakes to hold onto for years. For anyone looking to buy a boutique baby gift with a special touch, I highly recommend checking out Makaboo's selection of fantastic gifts for newborns, babies and toddlers!
Disclosure: This is not a paid review and honest opinions were expressed. Many thanks to Makaboo for providing a gift certificate so I could review their order process and products.