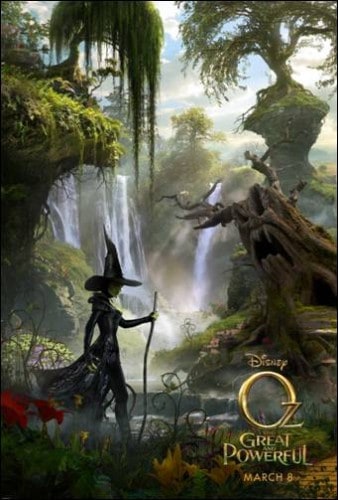 Sometimes I think there's a part of me that never grew up. From my love of the Muppets and a big piece of my heart belonging to Disney, I definitely still get caught up in many of the same things that made me happy as a little kid.
Another one of my loves that never went away? The Wizard of Oz. Now, Disney is gearing up to release OZ The Great and Powerful in theaters next spring, and I'm beyond excited at how gorgeous and exhilarating this movie looks!
The image above is the new poster for the movie and our first introduction to The Wicked Witch of the West!
See the trailer for OZ the Great and Powerful and learn more about the movie when you LIKE the movie's fan page on Facebook!
Disney's fantastical adventure Oz The Great and Powerful, directed by Sam Raimi, imagines the origins of L. Frank Baum's beloved Wizard character.

When small-time magician Oscar Diggs (James Franco) pulls one flimflam too many, he finds himself hurled into the fantastical Land of Oz where he must somehow transform himself into the great and powerful wizard—and just maybe into a better man as well.

Reluctantly drawn into the epic problems facing the Land of Oz and its inhabitants, Oscar must find out who is good and who is evil before it is too late. Putting his magical arts to use through illusion, ingenuity—and even a bit of wizardry—Oscar transforms himself not only into the great and powerful Wizard of Oz but into a better man as well.

Oz The Great and Powerful is produced by Joe Roth and written by Mitchell Kapner and David Lindsay-Abaire (credit not final).

Grant Curtis, Philip Steuer and Palak Patel are serving as executive producers. Oz The Great and Powerful opens in U.S. theaters on March 8, 2013.