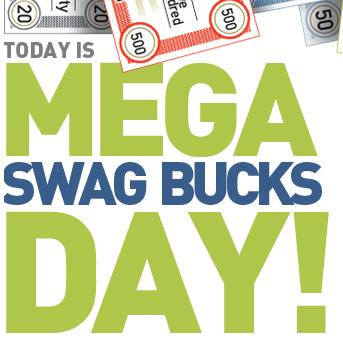 It's Mega Swagbucks Friday, which means you have better odds of getting bigger rewards for doing your regular internet searches!

Swagbucks is a search engine powered by Google and Ask.com. You'll randomly win Swagbucks as you do your regular searches. Get enough Swagbucks and you can exchange them for cash (through Paypal) or gift cards from merchants like Amazon, Chili's, Barnes & Noble and Starbucks!

There are multiple methods to earn Swagbucks and get you more rewards in faster. You can always get Swagbucks each day from the Daily Poll, checking the Special Offers and doing Trusted Surveys. Sometimes the surveys pay out over 200 Swagbucks!

I almost always exchange my Swagbucks for Amazon gift cards (but I've also received a few Starbucks gift cards to get a free latte :)). I've been a member of Swagbucks for years, and I've used those Amazon gift cards to get a free car seat, a free safety gate and the gift cards even helped pay for a portion of my new computer when my last one died!

The $5 Amazon gift card option is also the best value in terms of dollars-to-Swagbucks. Amazon has nearly everything you need to feed and care for your family, so you can keep your cash in your bank account and spend your Amazon gift cards for household essentials.

If you're not already a Swagbucks member you can sign up here and get 30 FREE Swagbucks! If you're already enrolled, try to to do a few searches today and see if you win!

Have you won any Swagbucks today? What did you do to get your points?