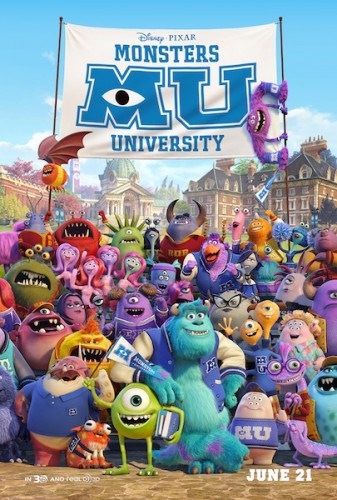 Remember Mike Wazowski and Sully from Monsters, Inc? They're such a funny pair–are you interested in how they became friends? I am!
This summer, Monster's University will be released and we'll all get to see the story of how they went from being rivals attending Monsters University to best friends working as professionals!
The above image is the newest poster for Monsters University. It makes me even more excited that this movie will be in theaters in just a few months!
Here are a few fun details about Monsters University and the stars of the movie:
Monsters, Inc., originally released on November 2, 2001, was nominated for four Oscars: Best Animated Feature Film, Best Original Score, Best Sound Editing and Best Original Song—If I Didn't Have You, for which it won.
Monsters University will hit U.S. theaters nearly 12 years after the original Monsters, Inc. theatrical debut. "Monsters, Inc." was recently rereleased in 3D on December 19, 2012.
Billy Crystal is known worldwide for his film roles in When Harry Met Sally…, City Slickers, The Princess Bride and Analyze This; his 2005 Tony-winning Broadway show, 700 Sundays; as a cast member of Saturday Night Live; and as the nine-time host of the Academy Awards ceremonies.
John Goodman's current film projects include Ben Affleck's drama Argo, which premiered at the 2012 Toronto Film Festival; the Robert Zemeckis thriller Flight, which premiered as the closing-night film at the New York Film Festival; and Clint Eastwood's sports drama Trouble with the Curve.
Helen Mirren won international recognition for her work on stage, screen and television. For her portrayal of Queen Elizabeth II in 2006's The Queen, she received an Academy Award, Golden Globe, Screen Actors Guild (SAG) Award and BAFTA Award for best actress. She was also named best actress by a multitude of critic's organizations from Los Angeles to London.
Oscar- Grammy- and Emmy-winning composer/songwriter Randy Newman contributes his unique musical talents to his seventh Disney•Pixar film. The 20-time Oscar-nominee's wins include If I Didn't Have You for Monsters, Inc. and We Belong Together for Toy Story 3. He will be inducted into the Rock and Roll Hall of Fame in April 2013.
LIKE Monsters University on Facebook and follow Disney Pixar on Twitter!