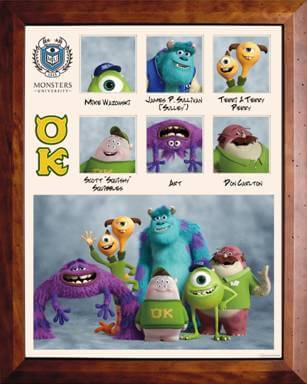 I think I keep asking this, but are you as excited as I am to see Mike Wazowski and the other lovable monsters again?
Monster's University will be released this summer, and we'll all get to take in the real story story of how Mike Wazowski and James P. Sullivan went from being rivals attending Monsters University to best friends working as pros at Monsters Inc.!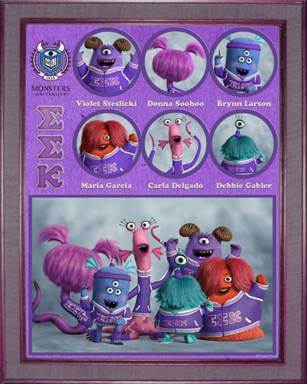 Now, Disney Pixar just released the full voice cast list for Monsters University and it looks great! Reading the list also makes me think that I've watched a lot of–maybe too much–TV in the past year or two. There are so many familiar names!
I'm especially excited to see Aubrey Plaza, John Krazinski and Charlie Day on the list. They all have such distinct, entertaining voices–I'm sure their characters will be hilarious!
Here are the details for the full cast list of Monsters University:
Billy Crystal ("Parental Guidance," "When Harry Met Sally," "City Slickers") reprises his role as Mike Wazowski, now a college-age monster who follows his dream of becoming a Scarer at Monsters University.
John Goodman ("Argo," "Flight," "Trouble With the Curve") returns as James P. Sullivan (Sulley), an overly confident, young hotshot Scaring student at Monsters University.
Steve Buscemi ("Boardwalk Empire") rejoins the monster world as Randy Boggs, a Monsters University freshman who is ready to experience all that college has to offer (if only he can curb his habit of disappearing).
Helen Mirren ("Hitchcock," "The Queen") gives voice to Dean Hardscrabble, legendary Scarer and hard-to-please head of Monsters University's prestigious School of Scaring.
Alfred Molina (TNT's "Monday Mornings," "The Da Vinci Code," "Frida") is the voice of Professor Knight, an esteemed professor in Monsters University's School of Scaring.
Dave Foley (TV's "NewsRadio," "The Kids in the Hall") as Terry Perry, the skeptical half of a bickering two-headed monster and dedicated Oozma Kappa (OK) brother.
Sean P. Hayes ("The Three Stooges," TV's "Up All Night") gives voice to Terri Perry, the more sensitive side of a two-headed Oozma Kappa (OK) fraternity brother with Scaring aspirations.
Joel Murray (TV's "Mad Men," "Two and a Half Men") voices Don Carlton, a "mature" student at Monsters University and a founding member of the Oozma Kappa (OK) fraternity.
Pixar's Peter Sohn ("Ratatouille," "Small Fry") provides the voice of Scott "Squishy" Squibbles, an undeclared sophomore at Monsters University and Oozma Kappa (OK) fraternity member who still lives with his doting mother.
Charlie Day ("Horrible Bosses," "Pacific Rim," TV's "It's Always Sunny in Philadelphia") provides the voice of the incomparable Art, an Oozma Kappa (OK) fraternity brother with a questionable past.
Nathan Fillion ("Much Ado About Nothing," "Percy Jackson: Sea of Monsters," TV's "Castle") portrays Johnny Worthington, the confident president of Roar Omega Roar (ROR), a Monsters University fraternity that prides itself on its notable Scarers.
Bobby Moynihan (NBC's "Saturday Night Live," HBO's "Girls," DreamWorks Studios' "Delivery Man") helps bring to life Chet Alexander, a yes-monster member of the Roar Omega Roar (ROR) fraternity.
Julia Sweeney (TV's "The Goode Family," "Saturday Night Live") lends her voice to Ms. Squibbles, indulgent mother to Monsters University sophomore Scott "Squishy" Squibbles.
Aubrey Plaza ("To Do List," TV's "Parks and Recreation") gives voice to Claire Wheeler, the somber president of Monsters University's Greek Council and emcee for the annual Scare Games.
Tyler Labine ("Tucker & Dale vs. Evil," "Mad Love") was tapped to voice Brock Pearson, vice president of the Greek Council and enthusiastic emcee of the Scare Games.
John Krasinski ("Promised Land," TV's "The Office") provides the voice of "Frightening" Frank McCay, a Scaring super star at Monsters, Inc.
Bonnie Hunt (TV's "The Bonnie Hunt Show," "Cheaper By the Dozen") was called on to provide the voice of young Mike Wazowski's grade school teacher Karen Graves.
Beth Behrs (TV's "2 Broke Girls") serves as the voice of Carrie Williams, fearless leader of the Python Nu Kappa (PNK) sorority.
John Ratzenberger ("Cheers," Disney•Pixar's feature films) returns to the Pixar recording studio as the voice of a Monsters, Inc. employee.

Screaming with laughter and oozing with heart, Disney•Pixar's Monsters University is directed by Dan Scanlon (Cars, Mater and the Ghostlight, Tracy), produced by Kori Rae (Up, The Incredibles, Monsters, Inc.) and features music from future Rock and Roll Hall of Fame inductee Randy Newman.
Here are a few fun notes about Monsters University and the stars of the movie:
Monsters, Inc., originally released on November 2, 2001, was nominated for four Oscars: Best Animated Feature Film, Best Original Score, Best Sound Editing and Best Original Song—If I Didn't Have You, for which it won.
Monsters University will hit U.S. theaters nearly 12 years after the original Monsters, Inc. theatrical debut. "Monsters, Inc." was recently rereleased in 3D on December 19, 2012.
Billy Crystal is known worldwide for his film roles in When Harry Met Sally…, City Slickers, The Princess Bride and Analyze This; his 2005 Tony-winning Broadway show, 700 Sundays; as a cast member of Saturday Night Live; and as the nine-time host of the Academy Awards ceremonies.
John Goodman's current film projects include Ben Affleck's drama Argo, which premiered at the 2012 Toronto Film Festival; the Robert Zemeckis thriller Flight, which premiered as the closing-night film at the New York Film Festival; and Clint Eastwood's sports drama Trouble with the Curve.
Helen Mirren won international recognition for her work on stage, screen and television. For her portrayal of Queen Elizabeth II in 2006's The Queen, she received an Academy Award, Golden Globe, Screen Actors Guild (SAG) Award and BAFTA Award for best actress. She was also named best actress by a multitude of critic's organizations from Los Angeles to London.
Oscar- Grammy- and Emmy-winning composer/songwriter Randy Newman contributes his unique musical talents to his seventh Disney•Pixar film. The 20-time Oscar-nominee's wins include If I Didn't Have You for Monsters, Inc. and We Belong Together for Toy Story 3. He will be inducted into the Rock and Roll Hall of Fame in April 2013.
LIKE Monsters University on Facebook and follow Disney Pixar on Twitter!