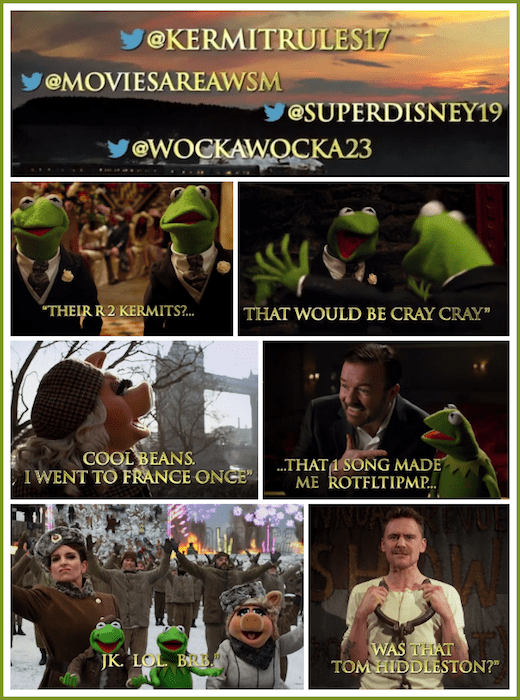 If you haven't caught the last few Muppets Most Wanted spots you're missing out on some seriously funny stuff!
The newest Game Day Extended Spot for Muppets Most Wanted is now available and I have it for you here!

Be sure you take a look at both of these Muppets Most Wanted trailers to get your fill of Muppets-style social media hilarity before the movie opens on March 21:
Like several other posts I've done about this movie, I can't help but share another one of the hilarious videos from the MuppetsStudio YouTube channel.
The Muppets have been YouTube sensations for years, and there are some amazing, hilarious videos to watch! So far I've shared Beaker's Ode to Joy, Swedish Chef's Pöpcørn and the classic Bohemian Rhapsody.
Today I want you to take a look at "Food Fight" featuring Gordon Ramsay with the Muppets. You won't be disappointed!

Muppets Most Wanted will open in theaters on March 21st 2014.
Disney's Muppets Most Wanted takes the entire Muppets gang on a global tour, selling out grand theaters in some of Europe's most exciting destinations, including Berlin, Madrid and London.

But mayhem follows the Muppets overseas, as they find themselves unwittingly entangled in an international crime caper headed by Constantine—the World's Number One Criminal and a dead ringer for Kermit—and his dastardly sidekick Dominic, aka Number Two, portrayed by Ricky Gervais.

The film stars Tina Fey as Nadya, a feisty prison guard, and Ty Burrell as Interpol agent Jean Pierre Napoleon.

Disney's Muppets Most Wanted is directed by James Bobin and produced by David Hoberman and Todd Lieberman. Bobin co-wrote the screenplay with Nicholas Stoller, who is also executive producer with John G. Scotti. Featuring music from Academy Award®-winning songwriter Bret McKenzie, Muppets Most Wanted hits the big screen March 21, 2014.
Stay on top of all the Muppets Most Wanted news:
This link will always bring you to the most current Muppets Most Wanted information right here on babysavers.com!