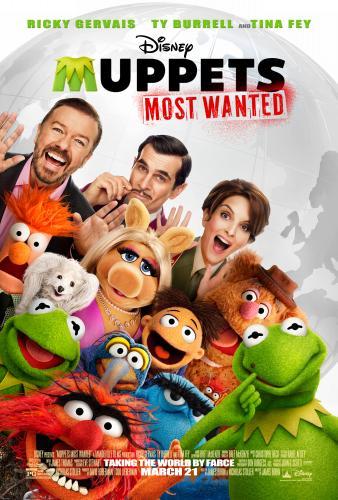 There are only a few months until some of my favorite movie stars return to the big screen!
Muppets Most Wanted will open in theaters on March 21st 2014 and I have a brand new trailer to share with all of you!

If you're unable to see the trailer above, you can see the Muppets Most Wanted trailer on YouTube.
I know I use childen's movies to relive my childhood, and Muppets Most Wanted is no exception. While Muppets Most Wanted looks entirely original and is definitely its own movie, it makes me a little nostalgic for The Muppets Take Manhattan, one of my favorite  films from when I was younger!
The truth is, I am seriously excited to see Muppets Most Wanted. I think The Muppets are beyond compare, and they've been entertaining me for my entire life!
On that note, take a look at this hilarious Ode to Joy video starring Beaker:
Before you turn off the hilarity of The Muppets, I have something else to share with you!
Several of The Muppets have been hard at work writing their own "most wanted" guest blog posts. Here are some of my favorite lines from them:
While I didn't personally get to spend any screen time with P. Diddy, I made sure I was on set to meet him. We had a lot to talk about, including sharing some of our favorite things: His favorite Muppet movie was "The Muppets Take Manhattan" and my favorite P. Diddy song is "Mo Money Mo Problems."  – Kermit the Frog
"[Honesty and trust] are two things that are a MUST in any relationship (Louboutins and pearls are a close 3rd and 4th!). Kermie and moi have lasted so long because honesty and trust have always been the foundation of our partnership. He's also seen the damage that my karate chop can cause".  -Miss Piggy
Read the blogs here:
KERMIT'S Most Wanted Trailer Cameos: https://di.sn/rJI
MISS PIGGY'S Most Wanted Relationship Advice: https://di.sn/gPi
MISS PIGGY'S Most Wanted Advice for Celebrities from a Screen Legend: https://di.sn/hQR
FOZZIE BEAR'S TV Shows He's Most Wanted to Guest Star On: https://di.sn/gPj
ANIMAL'S Most Wanted Drum Solos: https://di.sn/sJX
GONZO'S Most Wanted Disney Poultry: https://di.sn/ePl
WALTER'S Most Wanted Moments from the New Trailer: https://di.sn/bPf
Disney's Muppets Most Wanted takes the entire Muppets gang on a global tour, selling out grand theaters in some of Europe's most exciting destinations, including Berlin, Madrid and London.

But mayhem follows the Muppets overseas, as they find themselves unwittingly entangled in an international crime caper headed by Constantine—the World's Number One Criminal and a dead ringer for Kermit—and his dastardly sidekick Dominic, aka Number Two, portrayed by Ricky Gervais.

The film stars Tina Fey as Nadya, a feisty prison guard, and Ty Burrell as Interpol agent Jean Pierre Napoleon.

Disney's Muppets Most Wanted is directed by James Bobin and produced by David Hoberman and Todd Lieberman. Bobin co-wrote the screenplay with Nicholas Stoller, who is also executive producer with John G. Scotti. Featuring music from Academy Award®-winning songwriter Bret McKenzie, Muppets Most Wanted hits the big screen March 21, 2014.
Here are a few fun facts about Muppets Most Wanted:

Director James Bobin returns to Muppets mania. For his work as Disney's The Muppets director, Bobin was nominated for BAFTA (Outstanding Debut by a British Writer, Director or Producer). He co-created HBO's Flight of the Conchords, which he wrote, directed and exec produced.
Bret McKenzie, who won an Oscar for best original song for Man or Muppet, returns to the Muppets stage as music supervisor. McKenzie created, co-wrote, executive produced and starred in the hit HBO television series Flight of the Conchords.
Ricky Gervais is the creator of Derek and the Golden Globe- and Emmy-winning series The Office and Extras.
Ty Burrell is an Emmy Award winner for his role in TV's Modern Family.
Tina Fey is a Golden Globe-, Emmy- and SAG Award-winning actress and writer (30 Rock, Mean Girls, Date Night).
Stay on top of all the Muppets Most Wanted news:
"Like" The Muppets on Facebook: https://www.facebook.com/Muppets
"Follow" The Muppets on Twitter:@MuppetsStudio
"Follow" Miss Piggy on Twitter: @RealMissPiggy