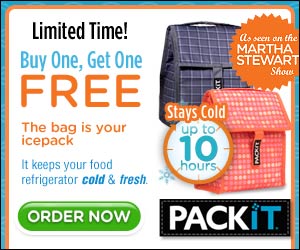 If you have school aged children, or if you pack your own lunch for work, check out the PackIt! The go anywhere mini-fridge! And right now you can buy 1, get 1 free! Only $19.95 + shipping!
Bye-bye ice gel packs that only last for 2 hours. The bag is your icepack, and it stays cold for up to 10 hours.
Plus order now and get 2 Pack & Lock Freshness Containers, 1 Spill-Proof Bottle and a 5 minute meal planner for FREE!
Shipping is about $11 for the first PackIt and $4.95 for the second.
Go HERE to order yours today so you'll have in time for back to school!