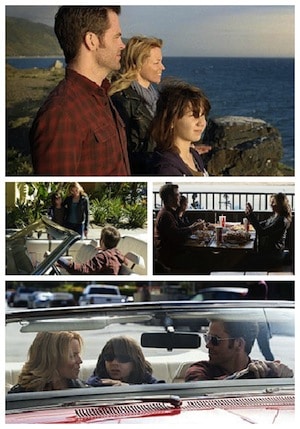 "My father, he always said, Lean into it."

"What does that mean?"

"It means that the outcome doesn't matter. What matters is that you were there for it — whatever 'it' is, good or bad. Kind of like right now.

-People Like Us
My husband always gives me a hard time because I usually only want to watch just a few genres of movies: comedies or animated family films. Boring, I know, but it usually keeps me from watching movies that keep me up all night for one of two reasons: either thinking too much or leaving me completely freaked out over something that disturbed me.
The truth is, I over-analyze and obsess over nearly every movie I see and book I read, which means I need to limit my exposure to serious topics to keep my head from exploding!
Sticking to the light, funny genres of comedy and animation are great for that, but I just realized that I've been missing a lot by not being open to watch more dramatic films.
People Like Us was exactly what I needed to remind me that there are excellent dramas that will still leave me feeling good at the end. Movies that keep me thinking, but not over-thinking, about the various story lines beyond the obvious plot.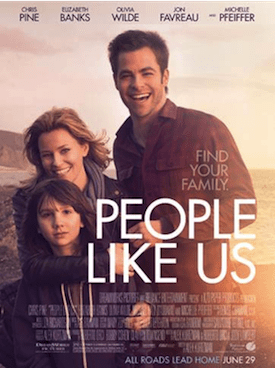 From DreamWorks Pictures comes People Like Us, a drama/comedy about family, inspired by true events, starring Chris Pine ("Star Trek") as Sam, a twenty-something, fast-talking salesman, whose latest deal collapses on the day he learns that his father has suddenly died.

Against his wishes, Sam is called home, where he must put his father's estate in order and reconnect with his estranged family. In the course of fulfilling his father's last wishes, Sam uncovers a startling secret that turns his entire world upside down:

He has a 30-year-old sister Frankie whom he never knew about (Elizabeth Banks). As their relationship develops, Sam is forced to rethink everything he thought he knew about his family—and re-examine his own life choices in the process.

In a story inspired by true events, Sam, a twenty-something, fast-talking salesman, is tasked with fulfilling his estranged father's last wishes—delivering an inheritance to a sister he never knew he had.
I had watched a few People Like Us clips a few times to get ready for the film screening I participated in last week as part of the Brave Premier event. I was already intrigued–I thought the plot was fairly obvious, but it seemed that the movie must have some twists or surprises to keep an audience on their toes. I was just wondering what those twists would be.
I'm not going to offer up any spoilers here, but I want to say that the plot twists are there, but they're not splashy, shocking moments that made me gasp with surprise. Instead, the slight changes in direction left me with a happy feeling at the end of the film, because it didn't end exactly the way I had anticipated it to end.
In addition to those subtle twists, the superb acting in the movie kept me engaged in the plot from start to finish. I didn't know who Chris Pine was before seeing People Like Us, but he did an excellent job as the main character, Sam. However, the real star of the movie, in my opinion, was Elizabeth Banks.
I'm so used to seeing Elizabeth Banks in her comedic roles on 30 Rock and (previously) on Scrubs that I didn't know if she'd appeal to me as a serious character. Truth be told, she was amazing in this role as Sam's unknown and unaware half-sister that it just leaves me wanting to see more of her acting!
The addition of super-smart characters from Michelle Pfeiffer and Olivia Wilde was the icing on the cake for this movie. It was empowering to see Sam's character surrounded by three completely different, but equally strong, women. As he works throughout the film to develop or repair his relationships with all of them, it's clear that Sam has grown emotionally from a boy to a man from the start to the end of the movie.
All in all, I thought People Like Us was an excellent, heartwarming movie. It reminded me that life can get complicated, but it's up to us to maintain our relationships, fix our mistakes and express love to the ones we care about the most.
Disclosure: Disney provided my transportation and accommodations for the event that included this movie screening. All opinions expressed are entirely my own.