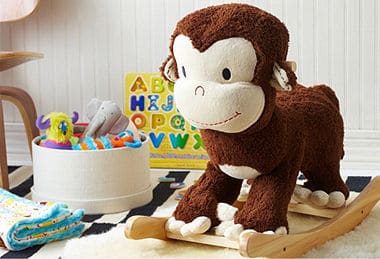 Starting Wednesday (10/24) at 9 am CST One King's Lane is opening up a special sale, Gifts for Little Ones, and I'm hoping it will have some great baby deals on nice items:
Cute, cuddly plush animals. Soft, toasty blankets. Fun, colorful toys and puzzles for hours of amusement. This collection of great gifts for babies and young children is destined to bring back some of your happiest childhood memories.
I've gotten in on some great deals from One Kings Lane in the past–including deeply discounted Melissa & Doug toys! I'm excited to see what's included in the sale when it opens in the morning.
If you're interested in the sale but you're not already a member of One King's Lane, you can sign up through this link and you'll get a FREE $15 credit valid for purchases of $30 or more!
Signing up before the sale starts has another benefit: you'll be able to start shopping as soon as the sale opens. Just log into One Kings Lane a few minutes before it starts and refresh the page to get started right away!