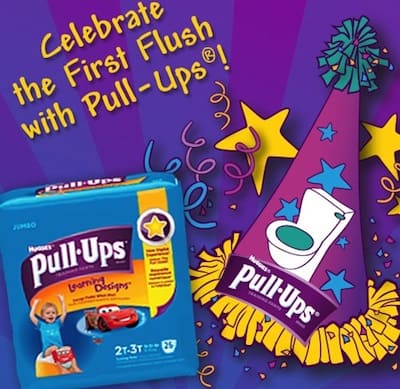 I'm not a potty training expert, but one thing I know for sure is that as soon as potty training stops being fun for anyone involved it's time to change things up (even just a little bit) to get that positivity back.
You don't have to change everything you've been doing, but introducing a new and fun potty-related game, book, DVD or experience can definitely help keep potty training moving forward instead of backwards.
If you don't know how to start potty training on a fun note, take a look at the new Pull-Ups Big Kid 3D Celebration. This fun and interactive campaign includes the FREE Pull-Ups Big Kid App, which is:
the ultimate potty training app features your child's favorite Disney characters, loaded with tips,tools, games and more to help you celebrate every milestone with your big kid.
The Pull-Ups Big Kid 3D Celebration also introduces really cool new interactive packaging. Find the Celebration Marker on specially-marked Pull-Ups packages in Walmart stores or on displays in Walmart stores to Celebrate the First Flush! Once your child uses the potty for the first time, you can scan the marker with the Pull-Ups Big Kid app and your child can watch her favorite Disney characters come to life!
There's even an added bonus for parents to check out the Pull-Ups Big Kid 3D Celebration: Now through March 29th, you can visit the Big Kid 3D Celebration page and enter for your chance to win! Pull-Ups is giving away FIFTY $25 gift cards and one grand prize of a $500 gift card! There's not much time left to enter the sweepstakes, so do it now.
Whether you're ready to kick off potty training or you want to add some free fun to your little one's potty routine, the Pull-ups Big Kid 3D Celebration will be fun for everyone!
This post provided by Pull-Ups. Please see my disclosure policy for full details.