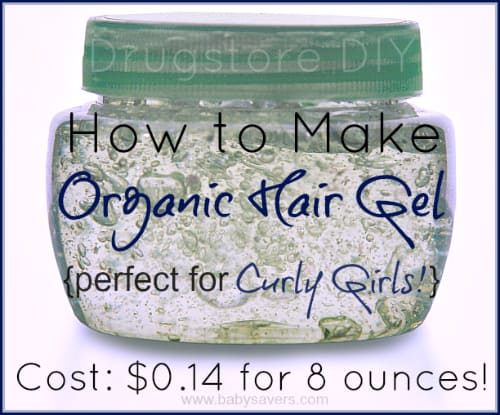 I'm kind of a closet curly girl. It's not that I don't embrace my naturally curly hair.
It's just that I often prefer a ponytail rather than experiment with a variety of products, methods, weather and days of the week that may or may not result in my hair curling "right" and looking decent enough to go out in public.
If you don't have curly hair, or unmanageable hair, or hair that frustrates you in its unwillingness to just do what you want it to do, you may not need this hair gel recipe.
I and many others, however, have spent most of our teenage-to-adult lives searching for that holy grail hair product. The one that will make our hairstyling process flawless every time you use it.
I'm not saying that this homemade organic hair gel is that magic hair product for myself and other curly-haired women.
After all, I've approached nearly everyone I've ever seen with amazingly-styled curly hair and asked excitedly, "What products do you use?" With that tiny hope that whatever product they use will magically make my hair look just like theirs. (note: it rarely does, and it never lasts.)
Instead of making promises I can't keep, I'd rather tell you that anyone with a saucepan, a stove and a handful of flaxseeds can make this hair gel in minutes and it will literally cost just pennies for your efforts.
Further, it can easily be organic, because the only ingredients are flaxseeds and water.
From what I understand, neither of those things will do any type of damage to your hair and the proteins in the flax may actually condition it and make it healthier than ever!
Let me sum this up for you: This homemade hair gel will cost you about $0.28 in ingredients.
It will take about 15 minutes to make about two cups (that's a lot!).
This gel might make your hair healthier and it could possibly be the magic potion of a curly-hair gel that you've been waiting your entire life to find.
Why not order some flax seeds or run to the drugstore to get some and get ready to make some gel?
Homemade Organic Hair Gel Recipe:
Ingredients:
Directions
Combine water and flaxseeds in a small saucepan on the stove over medium heat.
Stirring often with a wooden spoon, bring to a boil, then reduce to a simmer until the mixture begins to thicken.
Leave the pan on the burner but turn the heat off. Stir occasionally as the solution begins to cool. As it cools it will continue to thicken. When it resembles the consistency of egg whites take it off the burner and let it cool completely.
After it cools, strain the mixture through a cheesecloth. I actually used a section from a new pair of (cheap) pantyhose because I never have cheesecloth!
Stir in a few drops of essential oil if you want to scent your homemade hair gel
Store your gel in a covered jar in the refrigerator.
Use your homemade hair gel as you would usually use any other styling gel in your hair. I applied it to wet hair, then scrunched my and let it air dry. Here's what my hair looked like once it was dry: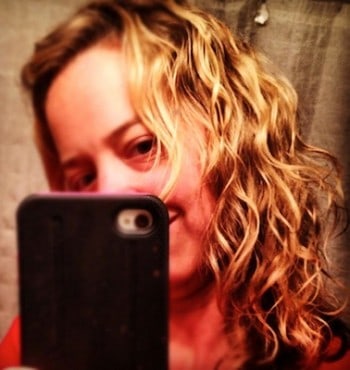 After that I scrunched the "crispiness" out of the curls and my curls remained curly all day!
With whole flaxseeds priced as low as $0.15 per ounce* your hair gel will end up costing you just $0.01 per liquid ounce. That two cup batch in the recipe above costs all of $0.15 to make!
*Although it costs more per ounce you might be better off buying a single pound of flaxseeds rather than the large quantity of flaxseeds if you're buying them for the first time!

If you have naturally curly hair, check out my story about everyone wanting the hair they don't have.
Have you ever made your own hair gel before? Leave a comment sharing your recipe!
If you like this post please pin it on Pinterest and follow me to share in some great finds!