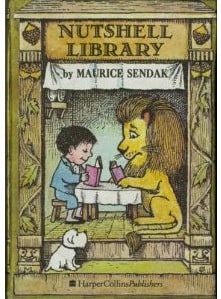 It was with sadness that I read this article today:
"Please don't go. We'll eat you up, we love you so."

One of the most influential children's authors of the past century has died.

Though best known for creating the wild rumpus, Where the Wild Things Are, Sendak wrote and illustrated dozens of children's books during a career that spanned 60 years. He brought nightmares and mosters to illustrated life, creating a new style of children's literature – less flowery, more gritty. His unsentimental storytelling appealed to kids and adults. In fact, Sendak didn't consider himself a children's author at all – just an author who wrote stories "about human emotion and life," as he told People magazine in 2003.

Time magazine once called him "the Picasso of children's books."

Though his biggest hit (Where the Wild Things Are) was published in 1963, Sendak never slowed down. His most recent book, Bumble-Ardy, was published last September.
My husband and two little ones are huge fan of Where the Wild Things Are. It's in a regular rotation of bedtime stories, and both of our little ones, can recite the entire book from start to finish as I turn the pages.
Personally, my favorite Maurice Sendak book is found in The Nutshell Library, a collection of four tiny books written and illustrated by the author. My grandma had this little boxed set and I absolutely loved to read Chicken Soup with Rice at her house. Piper received the same set for her last birthday, and it's given me great pleasure to share the stories with my little ones.
Other Maurice Sendak books on our shelf include The Sign on Rosie's Door and Higglety Pigglety Pop!: Or There Must Be More to Life.
Does your family have a favorite Maurice Sendak book?