Since I'm an Infantino Test Drive Mom, My babies get to try out an assortment of new Infantino products, and I get to post adorable photos of them online! For Phase 1 of the test drive program, we received the Twist and Fold Activity Gym. While this product has been around for awhile, the product we received is a new design, Baby Animals, (available July 15th) that coordinates with the Infantino Jumbo Wheel Play Space.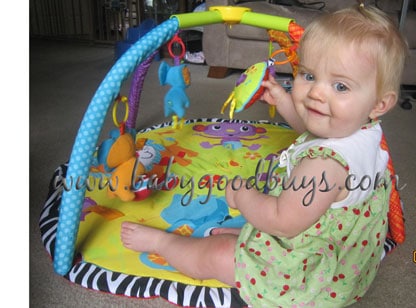 Let me tell you, this activity gym is a ton of fun! Since my little ones started playing with this when they were a bit bigger (10 months and 22 months), I can't say exactly how great it is for infants. I can tell you that they've both really liked playing with it, so it's likely a toy that will get some mileage from newborn age to at least small toddler age. There are some great features to this activity mat that make it fun entertainment for my babies! Here's what they especially loved: Piper loved the brightly colored animals that I attached to the crossbars. The swinging and dangling caught her attention and she loves to grab them and chew on them. She's also a little teething monster right now, so the bright plastic rings used to attach the toys to the activity gym help give her gums some relief. Haiden things the way the crossbars bounce and spring back is super fun! He likes pushing down on the crossbars from the top, then jumping back to see the whole mat bounce back! (I totally understand that this isn't an intended feature of this toy, but it works for us!)
The toy was really easy to set up: all I had to do was attach the crossbars to the mat and secure them with buckles. The crossbars then lock down to create a "T" at the top. The four included toys can be secured with rings to either the crossbars or the bottom of the mat.
As a mom, I understand that tummy time is really important. While both of my babies have outgrown the actual need for tummy time, this toy has some wonderful features to make tummy time more enjoyable for babies. It comes with a bolster to prop baby up on her chest, and all the toys can be attached to the loops on the mat to provide entertainment at eye level The mat is also adorably decorated to entertain (distract?) baby while she's getting her tummy time, and the pieces can be placed in a variety of areas to help encourage her to move her head around.
I think the portability and stowability of this activity gym is far and away the best feature! If you don't have an activity gym, you might not realize exactly how much space they take up. Additionally, most of them don't fold up easily to tuck away for storage or for cleaning up when company's coming. The Infantino Twist and Fold Activity Gym has a design that collapses and folds up into a long, slender shape that makes it much easier to put away! It also makes it ideal for travel if you have a need to take the toy with you when you leave your home. I didn't have a chance to take a picture of our gym folded up, but here's a photo of a different style gym all folded up into its compact state:
The only suggestion I have for the Twist & Fold Activity Gym would be to add some lights to make it even more mesmerizing for tummy time. We also have a Sound & Lights Activity Gym that worked amazingly well to keep Piper distracted when she was on her tummy as an infant. I know how difficult this exercise can be, and I think that the more distractions there are, the better for both mom and baby!
If you're interested in buying an Infantino Twist & Fold Activity Gym, it's available on Amazon.com for around $40-$55. The price depends on the style you choose. They're all adorable, so you really can't go wrong!
Infantino is in the process of releasing several new, fun and innovative products for babies! You can connect with them and stay updated by visiting their blog.
Disclosure: I am a participant in a Mom Central campaign for Infantino and have received various Infantino products to as part of my participation.