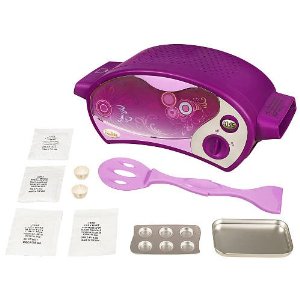 Head over to Amazon and find the brand new Easy-Bake Ultimate Oven for $34.97. That's 30% off the regular price of $50!
Can you believe that this new oven doesn't bake with a light bulb? How does this new model of the Easy-Bake Oven work? I have no idea! I just know that it looks like a sleek version of the version I had 20-some years ago. Plus, I just got one the Ultimates to use with my own kiddos, my nephews and my niece, so I'm excited to report back on how it works!
The new model of the Easy-Bake Oven includes:
Oven unit
baking pan
cupcake pan
pan pusher
chocolate chip cookie mix
red velvet cake mix
pink frosting mix
rainbow sugar crystals package
paper cupcake wraps
instructions/recipe booklet.