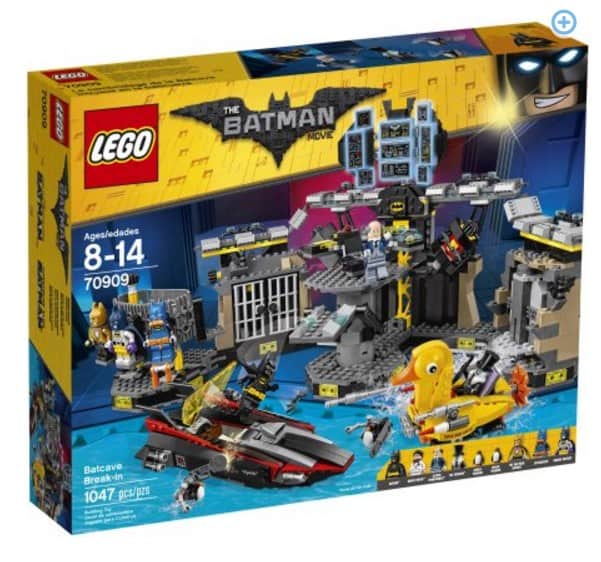 The LEGO Batman Movie Batcave Break-in is on sale for $69.99 at Walmart.com right now. That's 30% off the regular price of $99.00!
Product information:
Age range: 8 to 14 years
1047 pieces
Includes 4 minifigures: Batman, The Penguin, Bruce Wayne and Alfred Pennyworth, plus 2 Hench-Penguin figures, each with robot-style hands
This action-packed set features a highly detailed Batcave, Batboat and The Penguin's Duckmobile
The Batcave features a rotating transformation chamber, raised and rotating control center with bat-shaped Batcomputer with multiscreen elements, rotating chair, elevating platform function, 2 cabinets to hide Batman's Batarangs, plus Batman logo tile, prison with exploding escape wall function and a rotating wardrobe with 3 different Batsuits (minifigure bodies) for Batman
Put the Bruce Wayne minifigure in one side of the transformation chamber and rotate to reveal the hidden Batman minifigure
Activate the elevating platform to move a minifigure from the ground to the Batcomputer control center
Select Scu-Batsuit, Raging Batsuit or the Bat-Pack Batsuit minifigure bodies for Batman from the rotating wardrobe
The Batboat has a minifigure cockpit, 2 spring-loaded missiles with secret trigger, 4 stud shooters and rear batwings
The Penguin's Duckmobile features a minifigure cockpit with adjustable lever, 2 dual stud shooters, 2 flick missiles and a rotating propeller
Weapons include Batman's 2 Batarangs and the Hench-Penguins' buzzsaws
Accessory elements include Batman's cape and new-for-spring-2017 molded utility belt, breathing device, flippers, microphone and gold-colored cowl, The Penguin's fur-style collar, umbrella and top hat and Bruce Wayne's glass
Batcave measures over 15″ wide, 7″ deep and 8″ high
Batboat measures over 7″ long, 4″ wide and 2″ high
Duckmobile measures over 4″ long, 3″ wide and 3″ high
Shipping is free!
See all posted toy deals to save even more!