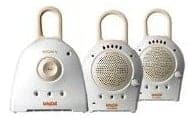 In the market for a bestselling baby monitor? The Sony BabyCall nursery monitor with two receivers is $47.25 with free shipping on Amazon right now. That's 32% off the regular price of $70!
This monitor is Amazon's fifth bestselling on their extensive list of baby monitor sales. Want to spend a little less? The same monitor with one receiver is 28% off and just $36.94, shipped.
If you're new to shopping for baby monitors, you'll find that no monitor gets ALL great reviews, especially those with enough buyers/reviewers to give you a good picture of the pros and cons. Monitor performance varies greatly depending on needs, use and location, so be sure to read the reviews thoroughly and make an educated decision based on what you read.