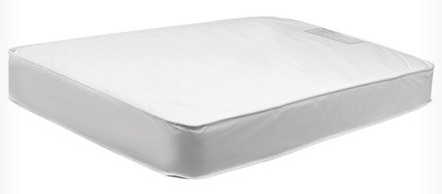 The DaVinci Sleepwell Ultra Firm 6″ Crib Mattress is on sale for $63.00 at Wayfair right now. That's 32% off the regular price of $92.00!
Product information:
Made of 100% polyester RPFB batting
High-density, single-piece composition
Meets Federal Flammability Standard CFR-1632
88-Coil Mattress has 13.5-gauge coils, a reinforced, laminated, wet-proof cover and cloth binding
150 Coil Mattress was orthopedically constructed for healthy sleep. It's hypo-allergenic with a triple laminated, wet proof cover
Deluxe MattressesNon-allergenic construction
Coils MattressesAll Coils Mattresses are constructed of resinated polyester fiber batting padding, have hypo-allergenic construction and meet Federal Flammability Standard CFR-1632
Made in USA
Overall Product Weight: 17 lbs
Dimensions: 6" H x 27.5" W x 52" D
Shipping is free for this item!
Shop the Wayfair clearance section for more great deals, including open box items.  Remember, the quantities of sale and clearance items on Wayfair.com are limited and the prices can change at anytime. If you see something you like at a price that works for you, you may want to buy it before it sells out.
Sign up for the Wayfair Rewards Program if you're not already a member.