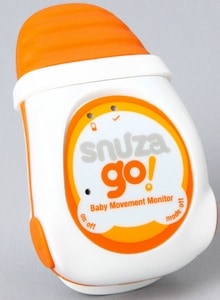 If you're new to Zulily please sign up here!
Zulily just started a Snuza sale, and you can get the super-popular Snuza Go baby movement monitor for just $64.99. That's 35% off the regular price of $100!
Even better, you'll get free shipping when you use Zulily promo code FREESHIPZU412.
The Snuza is a bestselling monitor that has great reviews on Amazon. Read them here to find out a lot of information on the product!
A bit more information from the manufacturer:
Portability means it offers protection for baby everywhere they sleep
Smallest, lightest monitor on market (weighs only 1 ounce)
Ergonomically designed to fit comfortably on babys diaper
Placement next to babys abdomen means more accurate detection
Has no cables, wires or plugs which makes it easy to use

The value of Snuza monitors in today's mobile world is significant as it is an 'out-and-about' monitor, unrestricted by the conditions imposed by other monitoring products. The innovative Snuza offers unsurpassed technology in the world of baby monitoring in that it uniquely combines finely-tuned precision monitoring with mobility and ergonomics.

Because the Snuza GO clips over the waistband of baby's diaper, it doesn't matter where they sleep. Perfect for at home, when travelling or when visiting friends and family. The Snuza Go has an audible alarm that can be set to alarm after 15, 18 or 20 seconds from last movement sensed.

You can be assured that Snuza Go is safe. There are no wires or cords that could potentially harm baby; your Snuza is made with hypo-allergenic, medical grade plastics; and importantly, does not send or receive radio frequency signals.