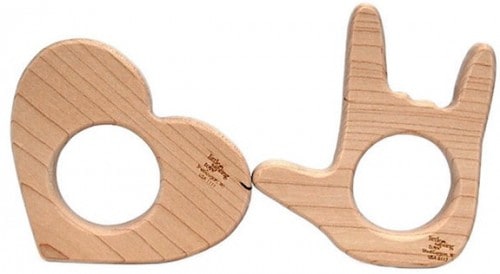 Ok, this is not the best deal I've ever posted, but I'm so charmed by the design of this teether set that I had to share it!
If you have a basic knowledge of sign language then you know that the teether alongside the heart is in the shape of the sign for "I Love You." It's a perfect little gift for a little one who's learning baby sign language or for a special mom!
This Little Sapling solid wood "I Love You" teether set is on sale at One King's Lane for $16. That's 36% off the list price of $25.
This and tons of adorable loving gifts for little ones can be found in the Be My Valentine shop on One King's Lane. If you've never shopped at One King's Lane you can sign up through this link and get a FREE $15 credit to use on a purchase of $30 or more!