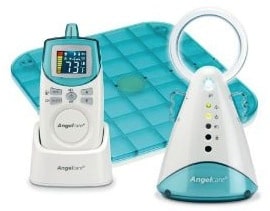 Amazon has the highly-rated Angelcare Baby Movement and Sound Monitor discounted to $80.50 right now. That's 38% off the regular price of $130!
If you're not familiar with this product, here's a brief description:
The Angelcare Movement and Sound Monitor combines a quality sound monitor and movement baby monitor in the same system.

Whether your baby is awake or asleep, the under-the-mattress sensor pad will detect all of your child's movements. An alarm sounds after 20 seconds if no movement is detected, and an optional 'tic' sound keeps you aware of the baby's movement.

Two channels minimize interference, and the AC-powered monitor automatically converts to battery power in case of a power failure.

The monitor lights up with your child's sound level and also has a low battery indicator. Let the monitor system do its work to grant you the rest you need.
I paid full price for our Angelcare monitor when Piper was a newborn. She was so quiet and seemed to hold her breath frequently when she slept. Her pediatrician said that her breathing wasn't a concern, but I couldn't stop worrying!
After a week of true anxiety and obsessively placing my hand on my baby's chest just to feel it rise and fall I woke up and took a special trip to Babies R Us for our own Angelcare baby monitor. It was hands-down one of the best purchases I've ever made! We definitely sacrificed several dinners out to pay for it, but it was well worth the cost.
As one of the many Angelcare monitor reviews state, it's a "small price to pay for peace of mind."