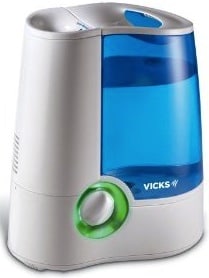 Any type of humidifier or vaporizer helps little ones when they're sick. I've tried several brands of humidifiers, and I'm a firm believer that Vick's makes the best ones! I've always opted for very basic models, but I'd love one with Auto Shut-Off like this one has:
Right now, the Vick's Warm Mist Humidifer with Auto Shut-Off is priced at $27.08. That's 46% off the list price of $40! Shipping is free, too.
I was recently at a baby shower for a good friend. My gift bag contained several quirky, fun and useful items, but another attendee gave the mom-to-be a humidifier. I thought that it was a perfect, practical gift for any parent-to-be!