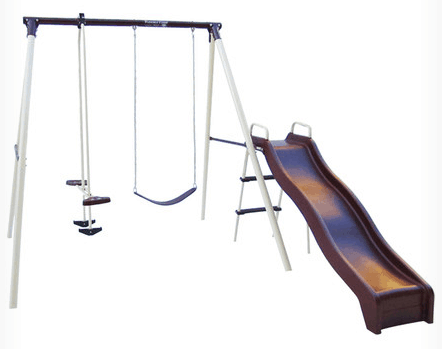 The Flexible Flyer Space Saver Fun Swing Set is on sale for $107.00 at Wayfair right now. That's 47% off the regular price of $199.99!
Product information:
Color: Burgundy and Ivory
Material: Vinyl and Resin
Powder coated painted steel frame
Air glider for two
1 Sling swing with adjustment height vinyl covered chain
6′ Wave slide in HDPE Burgundy Resin
Easy assembly
Made in the USA
Assembly manual included
Dimensions: 74″ H x 95″ W x 102″ D
Shipping is free for this item!
Shop the Wayfair clearance section for more great deals, including open box items. Remember, the quantities of sale and clearance items on Wayfair.com are limited and the prices can change at anytime. If you see something you like at a price that works for you, you may want to buy it before it sells out.
Sign up for the Wayfair Rewards Program if you're not already a member.