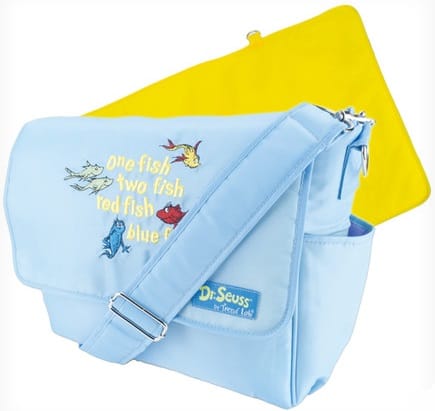 The Dr. Seuss Blue "One Fish, Two Fish" Messenger Diaper Bag is on sale for $18.44 at Wayfair right now. That's 64% off the regular price of $49.95!
Also available is the Dr. Seuss Pink "Oh! The Places You'll Go" Messenger Diaper Bag for $16.61!
Product information:
Embroidered design on front flap
Outside of the bag has two side bottle pockets and one wide Velcro closure pocket on the back
Inside are two additional pockets that will keep all your travel necessities organized
Magnetic closure keeps inside contents secure
28″ – 48″ adjustable strap makes it easy to carry or hang across stroller handles
Removable, coordinating changing pad and transparent dirty duds zippered pouch included
30 Days warranty
Dimensions: 13″ H x 4″ W x 10″ D
Shipping is free for orders over $49!
Shop the Wayfair clearance section for more great deals, including open box items.  Remember, the quantities of sale and clearance items on Wayfair.com are limited and the prices can change at anytime. If you see something you like at a price that works for you, you may want to buy it before it sells out.
Sign up for the Wayfair Rewards Program if you're not already a member.