This post brought to you by Cub Foods. All opinions are 100% honest and my own. Please read my disclosure policy for more information.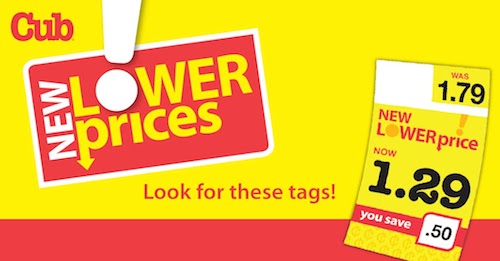 Did you know that Cub Foods has over 77 stores across Minnesota? Cub Foods recently announced that they're taking advantage of their high volume of stores to buy more products at lower costs. Even better, they're passing their savings onto us, the customers!
Given the number of stores in the Minneapolis, Minnesota area, it's no surprise that I buy lots of my groceries at Cub Foods. I like to keep our grocery costs down, so it makes me very happy that I can now spend less time paging through the grocery ads and more time spotting those new yellow tags throughout stores.
The best thing about all those new yellow tags indicating lower prices is that these aren't limited-time or temporary price drops. Items with yellow tags will be available every day at your Cub Foods store! Plus, they'll continue to have great weekly specials on top of the yellow tag price reductions, meaning more savings for all of us!
I make it a priority to only by fresh produce when it's on sale, and I prefer to spend $1 a pound or less  on any fresh fruits and vegetables. It can be a challenge, but it looks like these yellow tags will make it a bit easier to have some fresh food variety:
Black plums are $0.99 a pound
Sweet onions are $0.99 each
Celery is $0.89 each
Bartlett pears are just $0.99 a pound
One more great thing about the new low prices is that they can be combined with manufacturer coupons to maximize your savings. Print your coupons from Coupons.com, load them right onto your FREE My Cub Rewards loyalty card or clip them out of your Sunday newspapers. Then use them when you shop to save even more!
Don't forget that  your MyCubRewards card also tracks spending and gives you $0.05 off per gallon at Holiday Station Stores for every $50 you spend at Cub Foods!