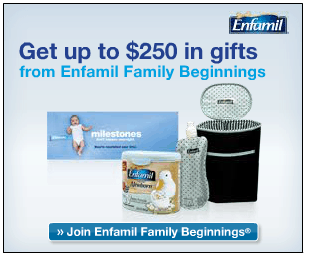 Join Enfamil Family Beginnings and receive up to $250 in FREE gifts. Even if you choose not to formula feed or supplement, you're still eligible to join.

Enfamil has been known to give out diaper bags, bottle coolers, water bottles and other useful baby gear to expectant parents who sign up for Enfamil Family Beginnings.
I packed up both of my free diaper bags with a few diapers, a bottle, a pacifier, a sample pack of wipes and a sample-size pack of formula and put one in both my car and my husband's car. I remember going out to dinner one time and realizing we had no diapers in our "everyday" diaper bag. What a relief to know that our "backup" diaper bag was right out in the parking lot!
You will also receive samples, formula checks, coupons, gifts and discounts.
I highly recommend signing up for this freebie if you're pregnant or if you have a small baby. You never know what great goodies you might receive in the mail!