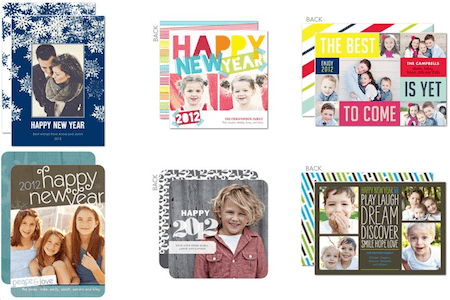 I admit it, I didn't send out Christmas cards this year. When I realized that I was coming close to all those ordering deadlines, I realized that all my out-of-town travel might mean that I wouldn't even have an opportunity to receive the cards, then get them back in the mail to the recipients in order to have them arrive before Christmas.
It feels like a little bit of a parenting failure to not send out brag-worthy photos of my own adorable kiddos earlier this month. I even stopped opening the mailbox in the days before Christmas so I wouldn't feel my own guilt each time I opened a card featuring a friend or family member's precious children!
I am, however, proud to share that I'm coming to realize my own limitations, and next year I need to be far more on top of Christmas business in November, instead of waiting till December to order cards and make decisions on gifts. I'd much rather celebrate the success of getting things done rather than dwell on failures!

I started tossing around the idea of New Year's cards a few days ago, and I think that it's a fabulous idea for me and for other parents and couples who just couldn't find the time to order cards to be delivered before the holidays hit!
Tiny Prints is currently offering up a nice combination of offers to anyone who wants to order customized New Years Cards or place an order for any other product through 12/28:
Just use TinyPrints.com promo code EOY20 to get FREE shipping and 20% off orders of $49 or more. If your order total is less than $49, you'll still get free shipping and 15% off your entire order!
I think the quality of Tiny Print's cards is fantastic, and their original card styles and vast selection can't be beat!