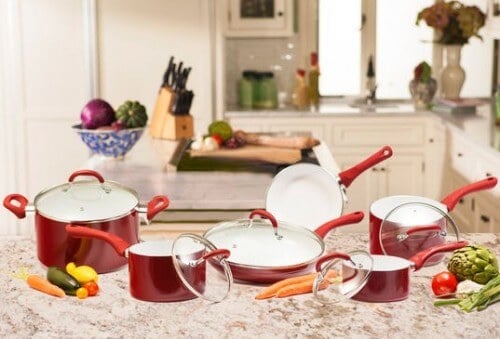 Head over to Living Social where you can currently get an 11-pieceSupreme Ceramic Cookware Set for just $89 ($299 value). If you've been wanting to splurge on a new set of cookware, this may be the one for you!
• $89 ($299 value) for an 11-piece cookware set
Includes 8″ fry pan; 11″ sauté pan/lid; & 1-, 2-, 3-, and 6-quart pots/lids
• $19 ($49 value) for a 2-piece set: 9.5″ pan/lid
• $39 ($94 value) for a 3-piece set: 11″ pan/lid and 8″ pan
• $49 ($104 value) for a 4-piece set: 2-quart pot/lid and 11″ sauté pan/lid
Over 2000 people have taken advantage of this deal, and it ends today. Just sign up or login to Living Social and click on Nationwide Deals to find it quickly.