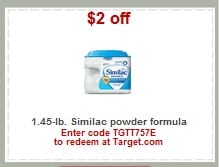 If your baby uses Similac powder formula, you may want to head to Target to get it. There's a nice Target printable coupon to save $2 on a tub of Similac infant formula (Click on Baby on the left side of the screen). Combine that with the Similac printable coupon for $3 off and you'll save a total of $7!
If you have formula checks you can definitely use them with the manufacturer's and/or store coupons! That means you could save even more!
Note: These coupons may no longer be available, but check out this post for the details on the newest $5 Similac printable coupon!
You should also sign up for baby mailing lists to ensure you receive baby coupons in the mail!