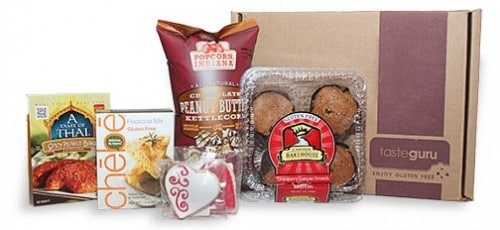 If you or one of your children are on a Gluten Free diet
, or you are trying to make the change, check out TasteGuru.  TasteGuru is a Gluten-Free Box of the Month Club.  And currently if you buy 3 months you will get a 4th month FREE, and  shipping will also be FREE!
Prices start at just $25/month.  This month's box included Bella Gluten-Free All Purpose Baking Mix, Chex Cinnamon Cereal, Wolfgang Puck Organic Soup and lots more!  Each box is at least 20% off retail.  This is a great way to explore some new Gluten Free brands and foods.
Head over to TasteGuru and check it out today!