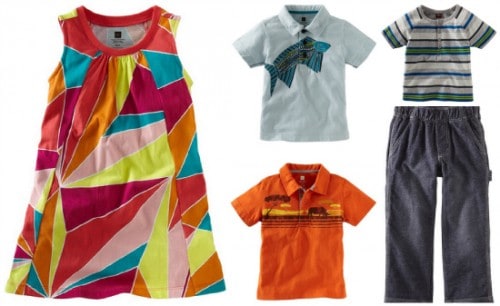 Last week I mentioned that I had a few adorable pieces from Tea Collection's Spring Collection on the way. They arrived and I couldn't be happier with the look and quality of everything I ordered!
This is my first ever order from Tea Collection, but their reputation totally preceded them. I've loved reading great Tea Collection reviews on some of my favorite blogs, so I didn't worry about anything.
Throughout the entire review process, the only hiccup was my own fault. After receiving the invitation to shop from the Tea Collection Spring Collection, I had selected everything I wanted and went to check out. Unfortunately for me, I thought I had completed my order, but I missed the last step when I closed my browser window. It took me a few days later to wonder where my order confirmation email was, and I had a bit of a red face when I realized I hadn't actually placed an order at all!
Thankfully, Tea Collection is one of those sites that saves your basket if you don't check out, so all I had to do was enter my gift code, click through all the following confirmation pages and finalize my order. A few days later, every adorable item was in my mailbox!
I'm so excited to share all the items I ordered, but this is a fair warning that my daughter, Piper was happy enough trying on her new dress, but she wouldn't pose without holding a stuffed animal!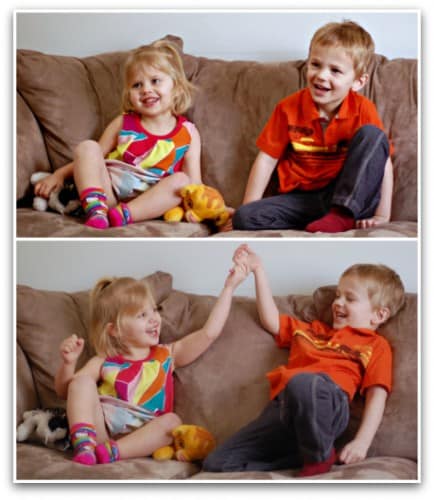 Like I mentioned in my previous post, Haiden was the one who really could use some new spring clothes, but I couldn't resist ordering the The Bo-Kaap Trapeze Mini Dress ($27) for Piper. It's 100% cotton but it has a soft, jersey feel instead of the stiff fabric I usually don't care for.
Haiden is wearing the Grazing Rhino Polo ($29). The color is a vibrant orange without being neon, and he really loved the rhinoceros on it!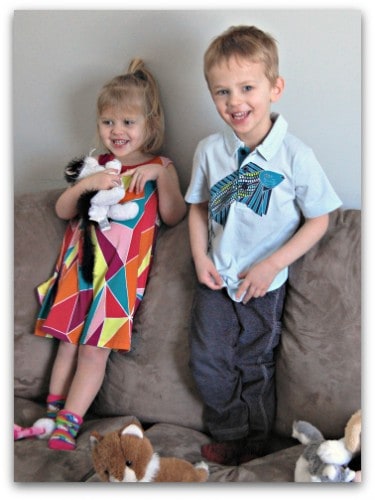 Here, Piper's in the same dress, but Haiden is now wearing the Venda Fish Polo ($29) with the Denim Look Carpenter Pants ($39). Of course, the shirt is cute, and I love that it can be at least a little bit dressy if we're going out to dinner or to a birthday party.
I really, really love the Denim Look Carpenter Pants ($39). They're a little slouchy in the picture, but they really have a nice look when they're straightened out and worn with shoes. At the same time, they feel like sweatpants, and the elastic waist makes it easy for Haiden to dress himself.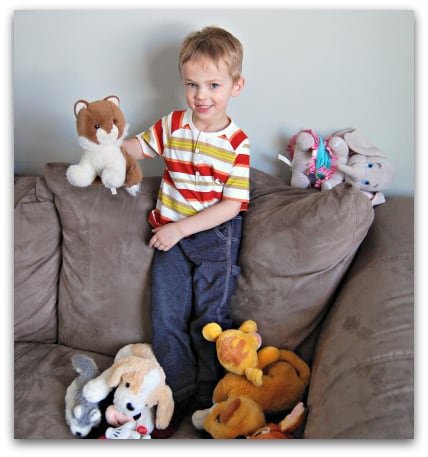 Now Haiden is still wearing the Denim Look Carpenter Pants ($39) with the he Surf Beach Henley ($26) in Brick. The shirt is so soft, and the colors are vibrant. Overall, it's just a cute shirt that makes him look like a little man!
The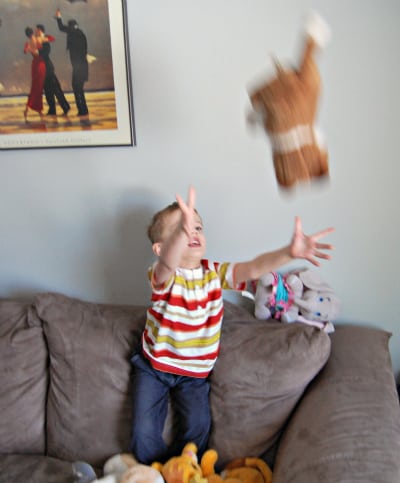 By this time, if I didn't want the photo shoot to be over the kids would have convinced me that they were done. Haiden started throwing stuffed animals…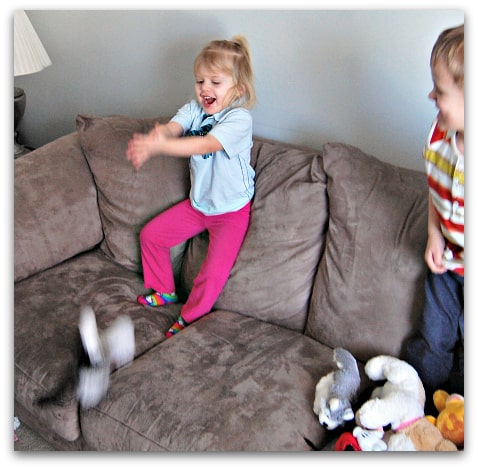 …then Piper took off her dress and put on Haiden's new "fish shirt" before she started throwing her own stuffed kitty! It was obviously time to end the modeling session 🙂
Overall, I think the quality of Tea Collection's Spring Collection is top notch, and I love how cute they are on my little ones!
You can save when you shop at Tea Collection right now! Use TeaCollection.com promo code PRSAVE213 and you'll save 15% on your entire order. It's even valid on sale items! The code is valid through the end of the day on 4/15/2013 and it can be used one time per person.

Disclosure: Tea Collection provided me with a gift card to shop the Spring Collection. All opinions are my own.