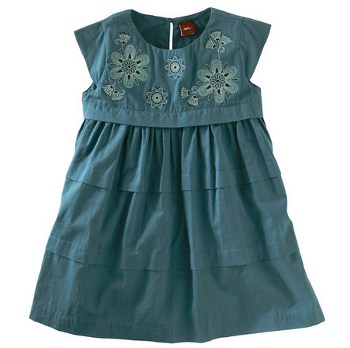 Have you shopped the Tea Collection sale lately?  Here are some great deals I just found at TeaCollection.com for dresses, tops, bottoms, and newborn outfits . . .
Needlepoint Floral Party Dress :: $29.50 (Reg. $49)
Moderni Baby Dress :: $16.50 (Reg. $35)
Girls Fresh Finn Bodysuit :: $9.50 (Reg. $20)
Newborn Chinese Jacket and Pant Set :: $23.50 (Reg. $48)
Boys Off-Road Layered Tee :: $14.50 (Reg. $30)
Adorable Dots T-Shirt Dress :: $19.50 (Reg. $35)
Girls Forget Me Not Top :: $14.50 (Reg. $30)
Shop the Tea Collection sale section for more great clothing deals for women and children!  Remember, quantities and sizes are limited on sale items, so do not wait too long to checkout if you find items you like.
$7 flat rate shipping for orders up to $150.00.  Orders over $150.00 ship free!