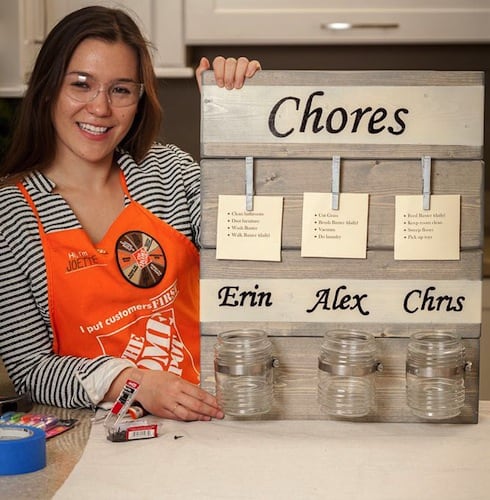 I used to love going to The Home Depot's Do It Herself Workshops, and I'm excited that the company is expanding the program to include more stores. We're celebrating with a Twitter party, and I'll be actively involved the entire time as a panelist!
Join us at #DIHWorkshop on Twitter Thursday, August 1st at 8:00 pm ET as we discuss Do It Herself projects with The Home Depot and special guest Martha Stewart! MomSpark is hosting the event, and the Twitter party will also include gift cards giveaways from The Home Depot, so check out the details below and be sure to RSVP for the party!
TOPIC – The Home Depot Do It Herself Chore Chart Workshop with Martha Stewart

TIME – Thursday, August 1, 2013 at 8:00-9:00 PM Eastern (7-8 PM Central, 6-7 PM Mountain, 5-6 PM Pacific)

HASHTAG – #DIHWorkshop

PANELISTS and GUESTS –@MarthaStewart @HomeDepot @MomSpark @MomSparkMedia @Crissy@ClassyMommy @Momfluential @BabySavers (be sure to follow everyone before party!)

PRIZES –

1 $100 The Home Depot gift card
2 $50 The Home Depot Gift Cards

 RSVP – If you want to attend the party, please RSVP at MomSpark.net. If you RSVP at that list, I'll be sure to follow you before the party starts on August 1st!
This Twitter party is provided by The Home Depot and hosted by MomSpark. Please read my full disclosure.