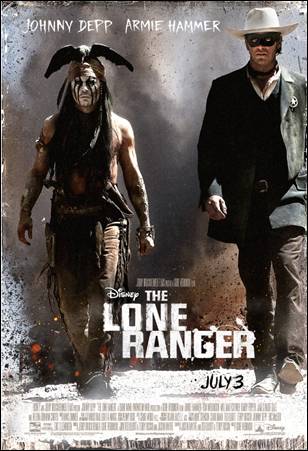 I have a bunch of news about The Lone Ranger, the highly-anticipated Disney/Jerry Bruckheimer mvoie that's going to be released in July 2013!
First, the above image is a new poster advertising the film. Doesn't it look amazing? I love that this movie is being produced by the same filmaking team behind all of the fantastic Pirates of the Caribbean movies!
Next, here's a new spot that's on Yahoo right now and it's set to air during the Super Bowl pregame show:
If you want a heads up of when it's going to be on, just text RANGER to the number 347639 and you'll get a text reminder to watch the footage and receive updates on The Lone Ranger!
Finally, Disney is holding a  sweepstakes that offers participants a chance to win prizes provided by SUBWAY® restaurants and Kawasaki.
To participate in The Lone Ranger "Who Will You Ride With on Game Day" Sweepstakes* and get a chance to win prizes for "You and Your Kemosabe," tune in and follow @LoneRanger on Twitter.  For a chance to win, after the sneak peek airs answer trivia questions about the spot correctly and use #LONERANGER in the reply.

All correct entries will be entered in a blind drawing for a chance to win a prize pack, such as Kawasaki helmets, SUBWAY®  gift cards, and more.  Each prize pack includes two prizes, one each for "You and Your Kemosabe." The sweepstakes will end February 4, 2013, at 3:00 p.m. PST. Entries will also be accepted via email to [email protected].

*See official sweepstakes rules: https://burbank-backstagepass.disney.com/owa/,DanaInfo=mobile-west.disney.com,SSL+redir.aspx?C=1a796cad2a584b65bab746870122463b&URL=https%3a%2f%2fwww.facebook.com%2fnotes%2fthe-lone-ranger%2fthe-lone-ranger-who-will-you-ride-with-on-game-day-sweepstakes-rules%2f10151431178693373
Stay up to date with all news on The Lone Ranger when you follow @LoneRanger on Twitter, Like The Lone Ranger on Facebook or visit the official The Lone Ranger website!