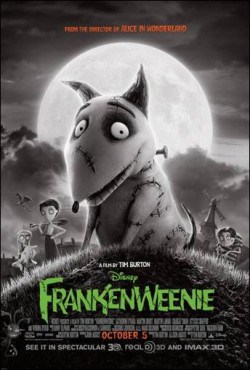 I had the privilege of screening select footage from Frankenweenie when I was in California for the Brave Premier and Disneyland Cars Land opening last month.
I'm not a huge Tim Burton "superfan" by any stretch–I haven't seen all of his movies and I don't know all that much about him. I have, however, thoroughly enjoyed every movie of his that I've seen. Big Fish is one of the best movies I've ever seen, and The Nightmare Before Christmas is so well-made, eerie and sweet that I can't help but love it!
Because I find both of those movies so incredibly endearing I was pretty excited to see the scenes from Frankenweenie and get a better feel for the characters and the story. I'm so happy I did!
From creative genius Tim Burton (Alice in Wonderland, The Nightmare Before Christmas) comes Frankenweenie, a heartwarming tale about a boy and his dog.

After unexpectedly losing his beloved dog Sparky, young Victor harnesses the power of science to bring his best friend back to life—with just a few minor adjustments. He tries to hide his home-sewn creation, but when Sparky gets out, Victor's fellow students, teachers and the entire town all learn that getting a new "leash on life" can be monstrous.

A stop-motion animated film, "Frankenweenie" was filmed in black and white and rendered in 3D. The talented voice cast includes: Catherine O'Hara, Martin Short, Martin Landau, Charlie Tahan, Atticus Shaffer, Robert Capron, Conchata Ferrell and Winona Ryder.

Presented by Disney, Frankenweenie is directed by Tim Burton, produced by Tim Burton and Allison Abbate, from a screenplay by John August, based on an original idea by Tim Burton. "Frankenweenie" releases in U.S. theaters on October 5, 2012.
It's not unexpected that the plot is a bit chilling, even though it's an animated movie. Yet, even in the 30 minute preview I was able to see that the film still has incredibly sweet characters and silly scenes that lift the film out of the darkness.
One of the best "behind-the-scenes" aspects of this movie was that Frankenweenie was the first full story that Tim Burton conceived, and the story has been in the works since Burton was 10 years old! It was originally produced as a 30-minute short back in the 1980's, but Burton always felt that the story needed to be told again.
It seems to me that creating this full-length, stop-motion animated Frankenweenie is what Tim Burton has been working towards for his whole life, and I have nothing but admiration for that sort of passion and perseverance!
Frankenweenie opens on October 5, 2012. Watch the Frankenweenie trailer, and like Frankenweenie on Facebook to find out more about this film!