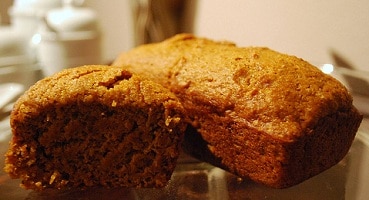 Cake mix might be one of my best friends. I love how it turns lots of complicated, multiple-ingredient desserts into accessible recipes!
When I happened to find a recipe for pumpkin bread made with cake mix, I had to share it here. I know I'm not the only mom looking for easy recipes for family-friendly treats. Add in the fact that it's fall and it's a pumpkin recipe and it's almost guaranteed to be a winner!
Pumpkin Bread Recipe:
Ingredients
1 box yellow or white cake mix
1 teaspoon cinnamon
1-3 eggs (use cake mix directions for amount)
vegetable oil (use cake mix directions for amount)
Instructions
Preheat oven to 375 degrees and grease a loaf pan.
Consult your cake mix box and use the amount of eggs and oil as directed on the box.
Combine cake mix, eggs and oil in a bowl and mix on medium speed until smooth and well-blended.
Add pumpkin and cinnamon. Mix on low until incorporated.
Pour mixture into prepared loaf pan.
Bake at 375 for 50 minutes or until a toothpick inserted into the center comes out clean.
Wait to cool, serve with butter or frost with cream cheese frosting.
I like to make most sweet breads in a mini loaf pan. My pan has 6 cavities, and I always divide up a recipe that makes one loaf of bread into the 6 portions for perfect little loaves. If you're like me and you want to make yours in a mini loaf pan, just reduce the baking time by 10 minutes.
Enjoy your delicious and easy pumpkin bread!