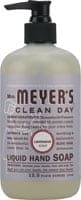 If you sign up for your FREE $10 off $10 Vitacost coupon code (or if you already have one you've been waiting to use), I have a great way to save big on luxury hand soap or cleaning products!
First, you'll need to go here and register for your FREE $10 Vitacost promo code. Your unique code will arrive in your inbox within 10-20 minutes.
Once you have your code, follow these instructions to get Mrs. Meyer's products on the cheap:
Head the Mrs. Meyers brand page on Vitacost. You'll find a variety of products priced from $3.22 each.
Pick 3 that total at least $10* and add them to your cart.
Proceed to checkout and enter your unique $10 promo code
You'll pay just $4.99 for shipping + the minimal cost of the products after coupon!
*I recommend choosing 3 products that are $3.70 or less to keep your out-of-pocket expenses low. There are 10 of those products in that price range to choose from, including dish soap, hand soap, countertop spray, and cleaning wipes.
I ran through a bunch of combinations and the lowest-priced combination of 3 Mrs. Meyer's items is:
That combination of the three items puts your total at exactly $10. Add in $4.99 for shipping, use your promo code and your final cost is just $1.66 for each item, shipped!
Mrs. Meyer's products are pretty well-known for being gift-worthy! Since all in-stock Vitacost items ship within 24 yours, you'll have your order in plenty of time to give out for a nice Christmas gift!