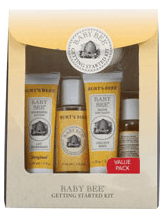 If you remember, I posted that you'll get a coupon code for $10 off $10 at Vitacost.com when you sign up for Vitacost through this link.
If you buy something priced right around $10, you'll essentially get it for 50% off, since shipping is a flat $4.99!
If you're a Burt's Bees fan or if you're looking for nice small gifts, there are three Burt's Bees sets that you can pick up from just $5.20!
First, sign up for Vitacost Rewards through this link. You'll receive a Vitacost promo code for $10 off a purchase of $10 or more in your email in about 15 minutes.
Then, head back to Vitacost and take a look at these items:
The Burt's Bees Baby Bee Kit is $10.99, so it's just $5.98 after your promo code
The Burt's Bees Head to Toe Kit is $10.21, so just $5.20 after your discount
The Burt's Bees Radiance Healthy Glow Kit is $11.66, So just $6.65 after your discount
The Burt's Bees Tips & Toes Kit is $11.62, so just $6.61 after your coupon code!
Happy shopping!