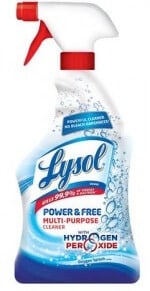 A few months ago, I picked up my kiddos at preschool and took them to an indoor playground to burn off some energy. All of us were happy to run into a few of their classmates and their moms, who were having a playdate. The kids immediately ran off together and I sat down to chat with the ladies.
I'm not all that vocal about being a blogger and having this website, so most of the preschool parents just aren't aware that this site exists, or at least that I'm the face behind babysavers.com. As I was chatting with the other moms, it came up that I'm a work-at-home mom and we talked about the responsibilities and work that comes with the otherwise fantastic perks of this type of work.
Conversation moved on to other mom-related topics: activities, babysitters, recipes, husbands, and homes. Like everyone I know, it was no surprise that these women were busy with everything life throws at them. Then one said, "I don't know how you do it, Marybeth." All I could say was, "Well, my house isn't very clean."
My response to that "doing it all" sort of statement/question was intended to be funny, and it did get a laugh. It's also sort of the truth. After a few years of anxiously feeling that I need to cook delicious dinners, get the laundry done, organize my house and keep a spotless home in addition to the necessary and far more important responsibility of caring for my family, I realized that something had to give.
The fact is, my house isn't orderly and it's rarely "company ready." I don't have labeled bins for all of our belongings, and I feel lucky if I remember to put my keys in the same spot every day.
I can say, however, that my home is a clean, healthy environment and I'm comfortable with my kids sneaking into the corners and crawling around on the floors.
The simple motivation behind keeping my house clean is that I love the smell of a clean home. My living room may may have a stack of books on the couch and coats that need to be hung up, but that sanitized, antiseptic smell reminds me that the surfaces are clean and bacteria has been kept at bay.
I received a bottle of Lysol® Power & Free to try out and I have to say that it definitely makes me feel the way I want to feel about my home. Since it's from Lysol, you know that it's a powerful cleaner (it works great on grease and soap scum), but that power comes from hydrogen peroxide rather than bleach. I might associate the extra-strong smell of a harsh cleanser with power cleaning, but that doesn't mean I want my little ones inhaling it! Lysol Power & Free helps me balance the need for a clean home with a formula that's a bit more friendly on little lungs.
Like Lysol on Facebook to learn more about Lysol® Power & Free.
Lysol® Power & Free uses the cleaning power of a hydrogen peroxide formula for a powerful clean with no bleach harshness! This helps ensure you don't have to make sacrifices while cleaning, such as opening all the windows or ushering the kids and pets out of the room. will help you break free from your ordinary cleaning routine- it's a powerful clean that's family friendly!
What do you love about a clean home? One of my readers will win a bottle of Lysol® Power & Free Multi Purpose cleaner to try in their own home! Comment below to be entered to win!
This is a sponsored conversation written by me on behalf of Lysol. The opinions and text are all mine. Official Sweepstakes Rules