So many Wildgrain reviews only tell you the good things about the bread subscription box. Keep reading to see one of the only Wildgrain Box reviews that tells you everything you need to know before you spend your money.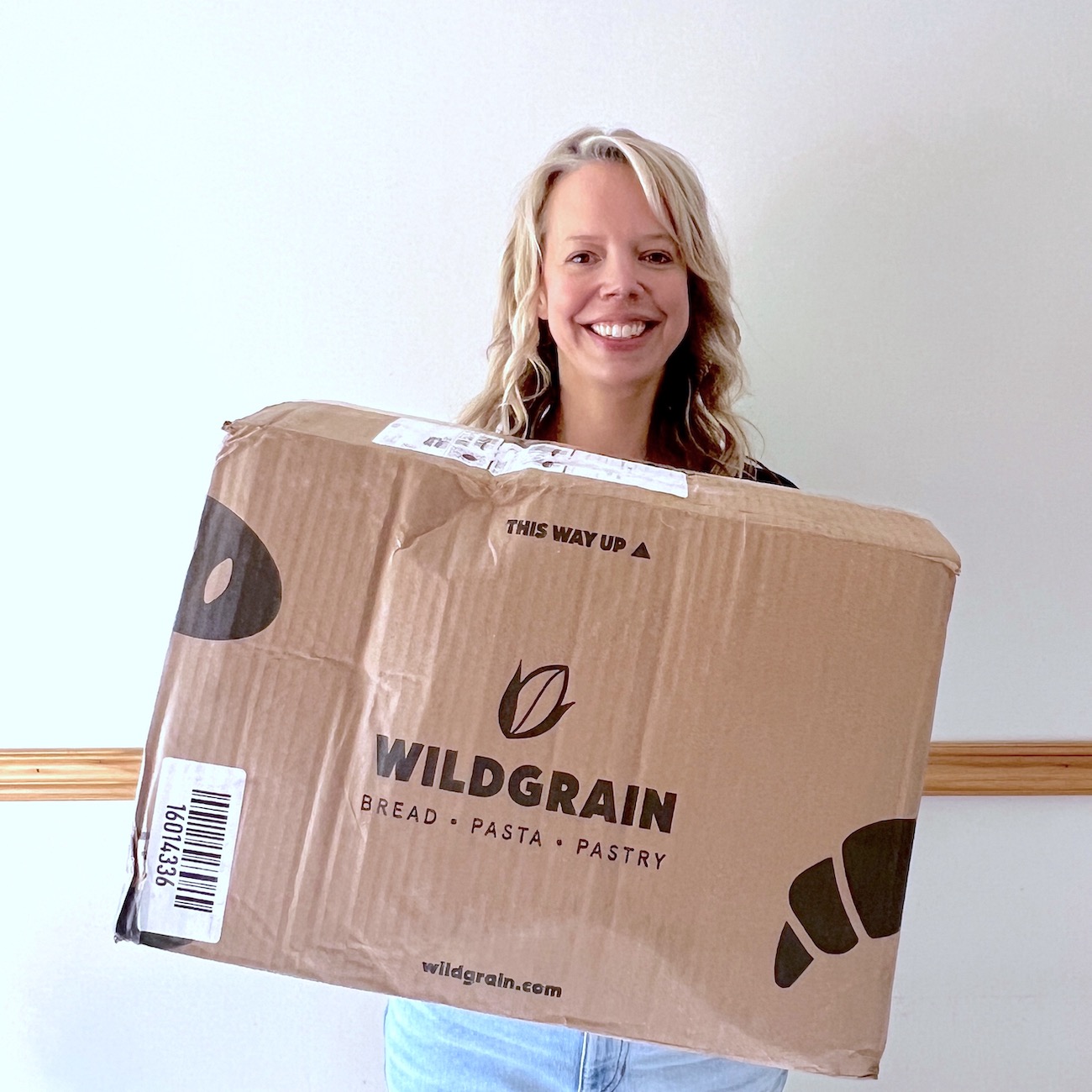 What is Wildgrain?
Founded in Boston by a married, bread-loving couple (with an adorable baby!), Wildgrain was created to deliver high-quality fresh bread, hand-cut pasta and ready-to-bake artisanal pastries directly to your door.
In short, the Wildgrain subscription box is a box full of carefully selected, first-rate bakery items, (plus fresh pasta, if you want it), all packaged up and delivered right to your door.
Johanna Hartzheim and her husband, Ismail Salhi, created Wildgrain with the goal to keep the tradition of artisanal, nutritious food alive. In doing that, they source their products from small bakers and fresh pasta makers across the United States.
They insist on foods with high-quality, clean ingredients, which provide customers with all the benefits of clean food that tastes amazing, too.
Why I thought I wouldn't like Wildgrain
I know, I know – what's not to like about a subscription box that delivers fresh bread, gourmet pasta and homemade pastries?
I had no doubt that my Wildgrain box would be delicious. I'm a normal, healthy person. So, naturally, I'm pretty crazy about freshly baked bread. And sourdough bread. Plus brioche rolls. And I can't forget about croissants. And just about any other pastry. Especially artisan pastries. I also had a few friends who had happily shared their love for their bread subscription deliveries over and over on Instagram.
At the same time, I had reservations about things other than taste and quality.
I'm going to be completely up front and share three different things that had me wondering if Wildgrain was too good to be true:
The cost.
The offerings
The freshness and/or waste.
I'll be going into each of my concerns in my full Wildgrain review below, but I want to summarize my thoughts.
My first thought when looking at Wildgrain's website was: $89 for bread? That's a lot of money! I couldn't believe that Wildgrain could be worth it.
Then I started thinking about what actually came in the box. What if my family didn't like something? Would we have enough time to eat everything before it spoiled? What if we didn't want to eat something that was included?
I love that I was able to try the Wildgrain subscription box so I could get all my questions answered, and also provide answers for all of you in my honest Wild Grain review!
Wildgrain Reviews – Everything You need to Know
This review is going to cover everything you could possibly need to know before deciding if you'd like to try this bakery box for yourself.
The Wildgrain Box Delivery
I was immediately impressed when the box from Wild Grain was delivered to my front door.
First, it was heavy – 25 pounds!
When I inspected the package, I was happy to see that it was a cardboard box shrink-wrapped in tight plastic.
While this bakery box delivery happened in the summer, I live in Minnesota and I've had plenty of cardboard boxes left on top of snow. It was really nice to know that it would be protected from the elements.
The inside of the box was lined with an insulated wrap. I'm fairly certain it was made from recycled paper.
All the bread, pasta and pastry products were enclosed in their own packages and then contained in a plastic bag, so they were further protected from potential water damage. Finally, there was a bag of dry ice sitting at the top of the box to keep it all cold.
What's in the Wildgrain Box?
There are two options for your Wildgrain order:
The Mixed Box, which includes bread, pasta and pastries
The Bakery Box comes with bread and pastries.
Today I'm reviewing the mixed Wild Grain box. If you're inclined to get the Wildgrain Bakery Box instead, just assume that you'll skip the fresh pasta delivery and you'll received two more bread products instead.
While it's not exactly specified, the Wildgrain subscription site indicates that the mixed box contains some assortment of the following:
3 loaves of bread or bags of rolls (about 1 pound to 1.5 pounds each)
2 packages of fresh pasta (12 ounces each)
1 package of pastries (4-6 servings)
How much does a Wildgrain subscription cost?
The cost of a Wild Grain box of bread, pastries and pasta is $89 per month with free shipping! I also have good news: there's a way to save on this and there's a way to get more for your money!
First, shop through this link and you'll get free croissants for life. That's free croissants with every Wildgrain box you ever have delivered.

Note: The previous offer was free sourdough rolls for life. I've had both the sourdough rolls and a variety of Wildgrain croissants, and I think free croissants is a superior offer. The rolls were delicious, but the croissants are out of this world amazing.

Second, use Wildgrain discount code BABYSAVERS at checkout and you'll save $30 on your first order.
What came in my Wildgrain box
The contents of my box of Wildgrain breads, pastas and pastries aligned with what was described on the Wildgrain website. But I was still pretty excited to try everything I received!
Here's what was in my box:
1 loaf of sourdough bread
1 loaf of sesame sourdough bread
1 loaf of cranberry-pecan sourdough bread
1 package of 8 sourdough rolls
1 package of fresh fettucine pasta
1 package of tonnarelli fresh pasta
1 package of 4 chocolate croissants (pain au chocolat)
Wildgrain review: My thoughts on what I received
My family was very excited to see and try absolutely everything that came in the box. That meant my concerns about the Wildgrain offerings were immediately lifted.
Unless something tasted wildly different than expected, everything was going to get eaten.
Wildgrain's sourdough loaf review
We started out by trying the signature loaf that seems to be included in every box: the sourdough Wild grain bread, or "plain sourdough loaf" as it's called on the website.
The first thing I did was check the ingredient list.
Sourdough starter
Organic unbleached flour
Water
Whole wheat flour
Sea salt
In other words, these clean ingredients were exactly what I would use if I were making my own loaf of bread!
This loaf of sourdough was insanely easy to make. All I had to do was heat up the oven, put the frozen loaf directly on the middle rack, then bake it for about 20 minutes.
The instructions also state that you're supposed to let the bread cool for 20 minutes to finish the bake.
I usually try to cook dinners that take 45 minutes or less, and I loved that I could pop this bread in the oven as I started cooking and have it ready to serve right around the time we were all ready to eat.
And the taste. OMG. The taste. If you like a strong, tangy sourdough this is probably going to be the best sourdough you've ever had.
I'm a bread lover, and sourdough is one of my favorites. I have my own jar of sourdough starter in the fridge. But homemade sourdough bread from scratch takes a long time.
Even after the starter has aged and fermented and is ready to use, the process of making a good loaf of sourdough bread takes at least 5 hours. (That isn't bad. The first recipe I tried with my starter took 12 hours!).
Wildgrain's sourdough loaf was 100% amazing, and it's probably a good thing I only got one loaf, otherwise I'd be eating it every day.
My family devoured the basic sourdough loaf, and there was enough leftover for toast the next morning. If you can, try making toast with this bread. You won't regret it!
Chocolate croissants review
I'm skipping around the list a bit because we tried the chocolate croissants for dessert after having the sourdough bread with dinner.
In short, the croissants from Wildgrain were amazing. I made a mistake in baking them, but I don't want you to have any doubt that they're delicious.
The issue I had with baking this package of four chocolate croissants was 100% my fault. Let me explain:
The instructions for the chocolate croissants were to bake them from frozen. I hadn't read the instructions, and I had let the frozen pastry thaw on the counter while we ate dinner.
By the time dinner was done and the kitchen was clean, the croissant dough was cold, but not frozen through.
In hindsight, I should have put the pastries back in the freezer, but we wanted our buttery, chocolate-filled dough now.
After I read the instructions that said to bake the croissant pastry dough from frozen, I reasoned that I could bake it for a shorter amount of time.
To be fair, I wasn't exactly wrong. I shaved about four minutes off the baking time and the dough cooked perfectly. It was a perfectly golden brown. The buttery, flaky layers baked up perfectly.
The only problem was the chocolate filling. A good amount of chocolate oozed out of the filled croissant. It didn't burn and it was completely, deliciously edible, but it was outside of the pastry.
Had I followed the instructions, I'm pretty sure the chocolate within the croissants would have melted perfectly, and thus all of it would have stayed in the pastries.
Plenty of the filling did stay baked in the croissants, and they tasted outstanding, so I just have one complaint about them: I didn't like the way I baked them.
Sourdough rolls review
The sourdough rolls that came in my wildgrain box were super similar to the loaf of bread I already reviewed. They were crusty and tangy and delicious.
I loved two things about this bag of dinner rolls:
1. Quantity control: You can bake up just a few rolls (we baked four of them at a time in the air fryer!) or you can bake the whole package.
2. Speed: It took just 12 minutes to bake the rolls, then 10 minutes to cool and rest before they're ready to bake.
Between the these two things, I would be super excited to get more sourdough rolls.
Sourdough sesame loaf
My family of four was in complete agreement that the Wildgrain's sesame bread was our least favorite. While it wasn't bad by any means, the rest of the bread varieties we received were just so much better.
The sesame bread was like the sourdough loaf, but with sesame seeds in it. The flavors didn't complement each other as much as I hoped.
Wildgrain Cranberry pecan sourdough bread review
This was the last of the breads in our Wildgrain box. I didn't know it, but we had definitely saved the best for last. Let me tell you, Wildgrain's cranberry pecan sourdough loaf is the bread of my dreams.
This bread has everything: the nutty crunch of the pecans and the sweetness of dried cranberries all baked into a tangy, soft sourdough with a crusty exterior.
My mom was at our house when we tried this bread. She said it "one of the best breads she's ever had."
I had to tell her several times that it wasn't available in stores near us. If she hadn't understood I'm sure she'd be scouring every bakery in town looking for this bread.
The makeup of the cranberry-pecan sourdough loaf follows the same theme of clean carbs, whole grains and deliciousness:
whole wheat flour
wheat flour
yeast
water
pecans
dried cranberries
organic grain and seed blend
honey
salt
Wildgrain pasta review
I have to say, the pasta was the most surprising part of this review. I didn't know pasta could be this good.
When I mentioned this to a friend, she asked me if I had ever made hand cut pasta at home.
I guess I haven't. I'm positive I would have remembered the absolute and total deliciousness of pasta, as opposed to the forgettable boxed spaghetti and penne I was used to.
I served the pasta with sauce, but I think my family would have eaten it all with just a little butter. The light egg flavor was incredible, but it was the texture that surprised me.
Since the pasta came frozen but looked like dough, I thought for sure it would cook into a soft consistency. To be completely honest, I thought it would be soggy and mushy.
Instead, after boiling the fettucini noodles for exactly 6 minutes, they were a perfect al dente texture that I struggle to get with my everyday dry pasta.
Wildgrain reviews: my final thoughts
I mentioned at the beginning of the review that I thought I might not like all the Wildgrain products. Boy was I wrong!
To review my hesitations: I worried about the cost, the offerings and the potential waste.
I think I was pretty clear that the offerings were absolutely perfect for my family. Everyone was 100% excited to try every single item as soon as they saw the contents of the delivery box.
As far as waste…let me tell you: there was no waste. Zero. Every crumb of bread was devoured. Every noodle of pasta was eaten. And, of course, the chocolate croissants were the fastest to disappear.
Is Wildgrain worth it?
The cost…the cost is still somewhat of a hangup for me. But that's because I'm not used to regularly having fresh bakery bread at my house. The store where I buy most of our groceries doesn't have the best bakery, and I'm not inclined to go out of my way for bread.
But, after a few weeks of indulging my family in amazing artisan bread that can be baked on demand, I just might change my tune. When bread is this good, it's worth paying a bit extra. It's especially worth more when it's delivered to my door!
Click here to get your own order now! Don't forget to use promo code BABYSAVERS to save at checkout!