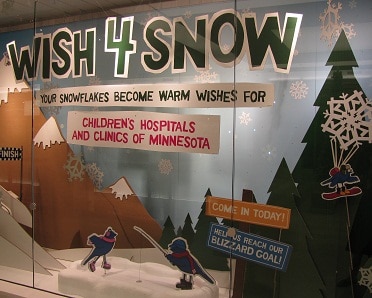 Last week I was proud to go to a special breakfast event at the Mall of America in Bloomington, Minnesota. Our local 77Kids store invited several Minnesota mommy bloggers to get together and learn more about the 77Kids Wish-4-Snow charity initiative for the holiday season.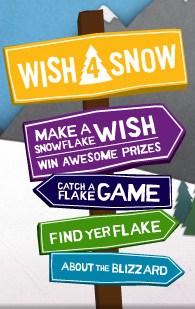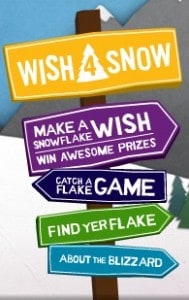 Wish-4-Snow is driven by people like us! With our help, 77Kids will donate the maximum amount to Children's hospitals across the country! Here's how you can help:
Visit the Wish-4-Snow site and design your own virtual snowflake. If 100,000 snowflakes are made 77Kids will donate an additional $25,000 to Children's hospitals throughout the United States.
Shop at 77Kids stores and donate a little money with your purchase. You're able to donate as little as $.77 and it's added right onto your receipt.  You and your kids will also be able to decorate a snowflake that will be placed on display in the store!
Wish-4-Snow benefits local children's hospitals, including:
Children's Health and Wellness Center at Danbury Hospital
Children's Hospitals and Clinics of Minnesota
Children's Hospital of Pittsburgh
Children's Regional Hospital at Cooper
University Hospital (Cherry Hill/Philadelphia)
Upstate Golisano Children's Hospital (Syracuse)
WakeMed Children's Hospital (Raleigh)
Connecticut Children's Medical Center (Hartford)
Children's Memorial Hospital (Chicago)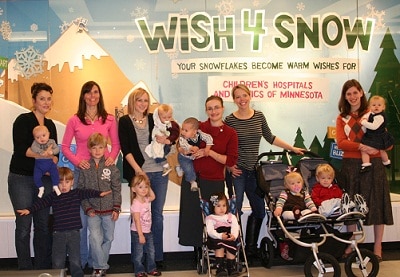 Participating bloggers pictured above (with their children), from left to right: Beth (Anti-Supermom), Mimi (Marvelous Mom Reviews), Sarah (Minnesota Mama's Must Haves), Rachel (Empowering Mommy), Myself and Aubrie (The Buzz 4 Moms)
The other Minnesota mom bloggers and I had so much fun at our 77Kids store! Every 77Kids store has a "Magical Window Display" and it definitely enchanted my children. They were both absolutely enthralled by the fact that we could push buttons on the outside to make the "skiing birds" race down the hill!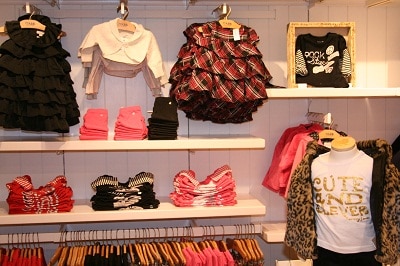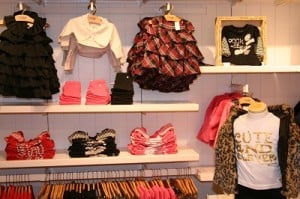 In addition to socializing over a lovely breakfast, we did some fun buzzing about the initiative, played with each other's kids, watched our kids model some clothes and did a little shopping with the gift cards 77Kids provided for us.
Since I'm always on the lookout for baby deals, I was able to get a total of 6 items and spend just a little more than the $50 gift card I received at the event. While I bought some absolutely fabulous items on clearance, my favorite item is this Zip Up Skull Sweater for Haiden (Yes, I paid full price, but I had a gift card!):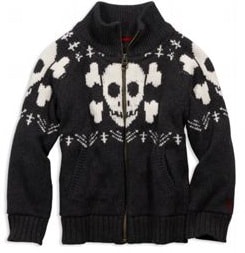 Honestly 77Kids is working so hard with bloggers like myself to get the word out about Wish-4-Snow, and I personally want to see it succeed! Take less than a minute out of your day, go create a snowflake and help 77Kids reach their 100,000 snowflake goal. It really does take less than a minute, and you can create as many as you want!
I want to help 77Kids reach their goal of creating 100,000 snowflakes on Wish-4-Snow, and 77Kids wants to help me help them!
Want to win a $50 Gift Card to spend at 77Kids stores or at 77Kids.com?
To enter, go to Wish-4-Kids and create a snowflake. Then, come back here and leave a comment letting me know what you wished for!

*************************
The above entry is mandatory. If you'd like additional entries, you may do the following:
Subscribe to the Baby GoodBuys email newsletter: Enter your email address here or in the box below. You must click the confirmation link in the message that's sent to you. All entries will be verified to ensure the email address is confirmed. (Leave a separate comment letting me know you're an email subscriber).

Subscribe to the Baby GoodBuys RSS feed in a reader: You can do this by clicking here and adding this site to your reader. (leave a separate comment stating that you subscribe to the feed in a reader).
Add Baby GoodBuys to your Blogroll or post my button on the sidebar of your blog: Button or blogroll link must be on your front page sidebar, not in an individual post or footer. (Leave a separate comment with your website URL).
Join the Baby GoodBuys community on Facebook for more conversation, additional baby deals and much more! (leave a separate comment with your Facebook display name).
Follow @BabyGoodBuys and @77Kids on Twitter and tweet the following:  Enter to #win a $50 #77Kids Gift Card from @BabyGoodBuys and @77Kids https://bit.ly/gImU8Z #Giveaway (leave a separate comment with your Twitter ID and a link to your tweet).
"Like" 77Kids on Facebook – I'd love it if you left a message on their wall telling them that Marybeth from BabyGoodBuys.com sent you there, but you don't have to write on their wall to get your extra entry. (leave a separate comment with your Facebook display name letting me know that you "liked" them.)
Enter the $50 Visa gift card blog giveaway on this site. Leave a comment letting me know you entered.

*************************
Contest Details: Contest ends on 12/3/2010. United States residents only. Valid email address is required. All entries without a valid email address will be disqualified. Duplicate, fraudulent and/or invalid entries will be disqualified. Winning email notification must be responded to within 48 hours or that winner will forfeit the prize and a new winner will be selected. Winner will be selected with the And the Winner Is WordPress Plugin. Winner will be notified via email. A screenshot of the winner selection will be saved and provided upon request. Winner's first name will be posted on this giveaway/contest post. All questions should be directed to babygoodbuys(at) gmail(dot)com.

If you are the winner of this giveaway please do not contact the sponsoring company or any other business mentioned with questions about prize fulfillment. All questions should be directed to me at babygoodbuys(at)gmail(dot)com. Contacting anyone other than me may disqualify you from prize fulfillment.
77Kids provided the gift card for the giveaway in addition to hosting the event at the Mall of America. I also received breakfast and a gift card at the event.