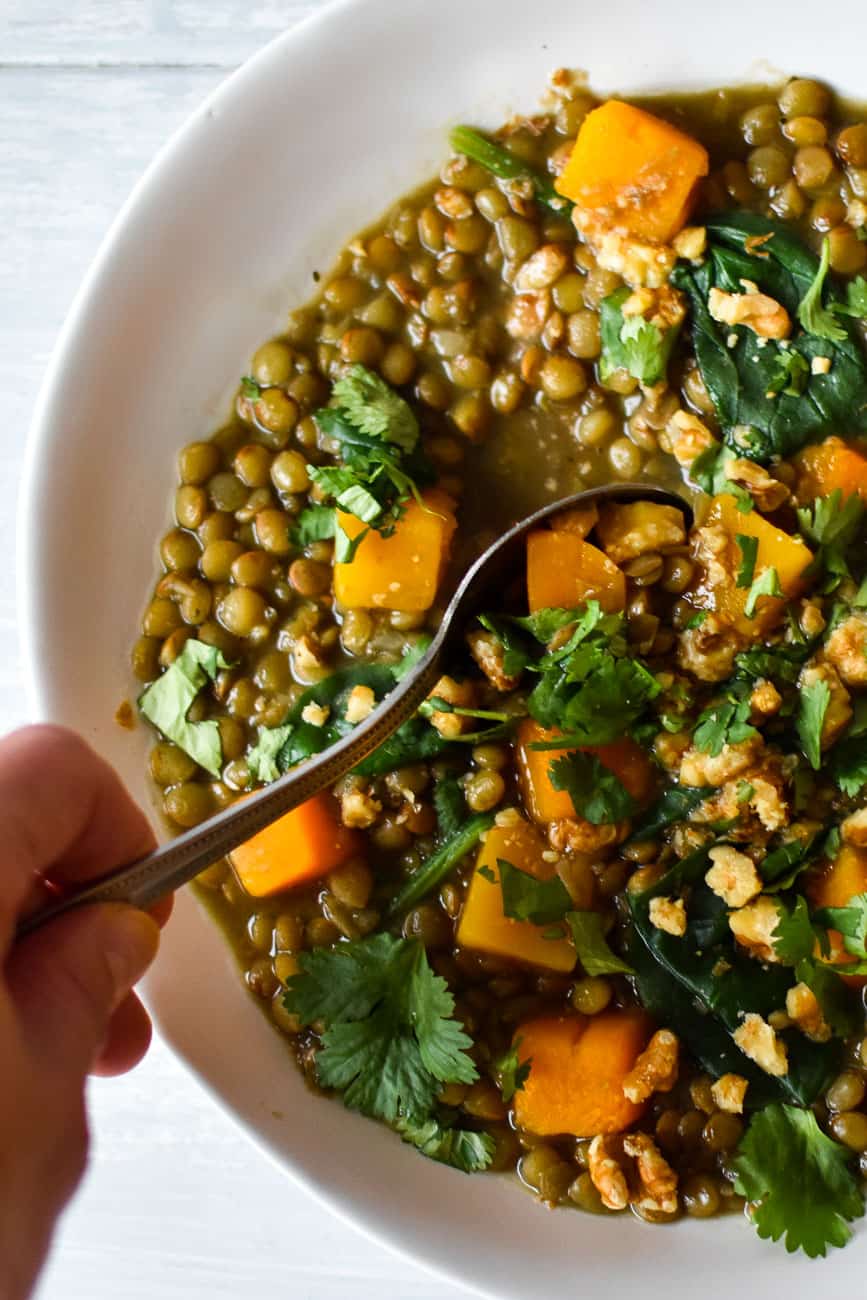 I'm a firm believer that winter is for soup. It doesn't matter where you live. We should all be eating soup at least a few times a week between the months of November and February.
Soup is one of the ultimate comfort foods. It's warm. It's rich. It's filling and it's just so comforting. Eating soup just feels good, and we all deserve to feel good sometimes.
But there's something else that can make soup so comforting – the recipe itself. Soup has been around for ages, and soup recipes have been handed down from generation to generation, bringing with them memories and good thoughts of the people who have cooked and served the food in years past.
That's the deal with this Butternut Squash Lentil Soup recipe that I'm sharing today. A lot of people will look at this recipe and think, Lentils? How can lentils be special to anyone? But they're special to me.
I had a great, great aunt who was a fantastic cook in her lifetime. She catered for businesses in my hometown, and a few older businessmen would literally groan when remembering her stews and cookies for years after she passed away.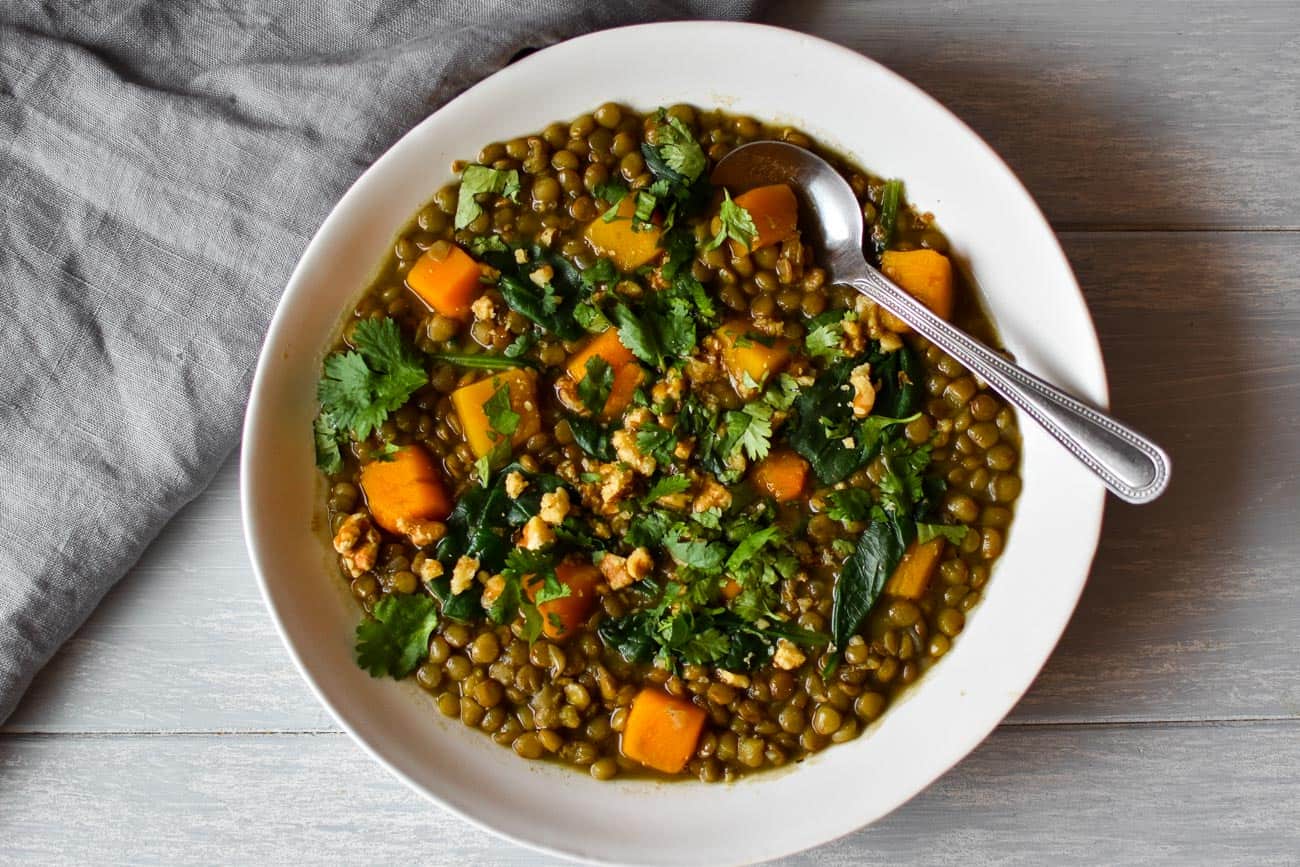 While most of her recipes are likely packed away in another relative's basement, I do have this amazing soup recipe. Admittedly, I've tweaked it just a bit to give it a bit more personality, but the very core of this recipe is all hers.
Whenever I make this butternut squash and lentil soup and serve it to my kids, I like to think that I'm enriching the next generation with a wholesome recipe that will last forever.
What's special about this Butternut Squash Lentil soup?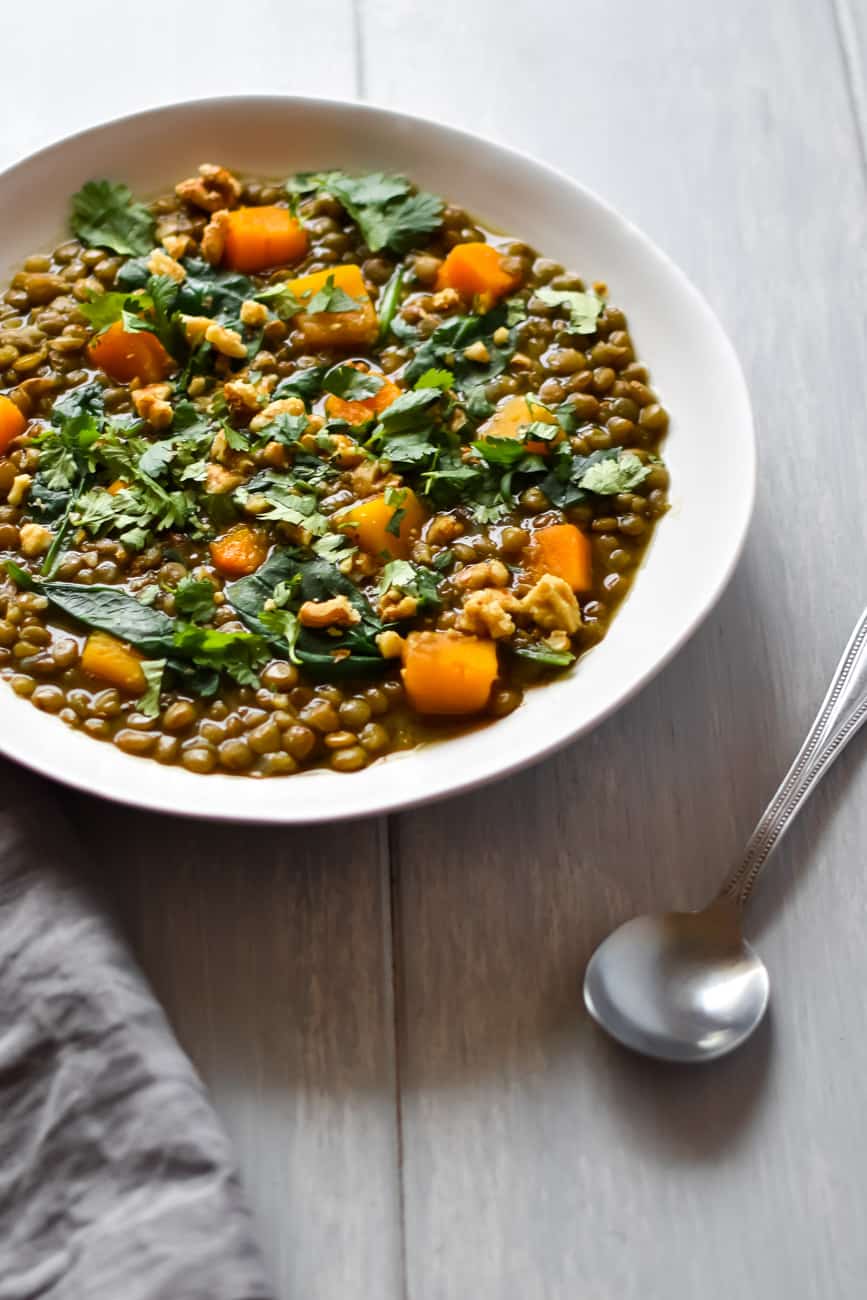 First, lentils. I love them, and I think lentils are entirely under appreciated. They're an excellent, vegan source of protein and iron while being low in calories. Like many other legumes and grains, they take on the flavor of what you're cooking, making them deliciously versatile.
Lentils are also amazingly affordable. A pound of lentils costs like a dollar and will literally feed a dozen people. Those 12 people will be fed quickly, too, since lentils can cook in under 30 minutes.
Next, butternut squash. Butternut squash is always delicious. All the vitamins are great, and a serving of butternut squash has more potassium than a banana.
But it's the flavor and texture that really makes butternut squash stand out in the crowd. Slightly sweet, creamy and smooth, it adds a hearty amount of flavor to this soup.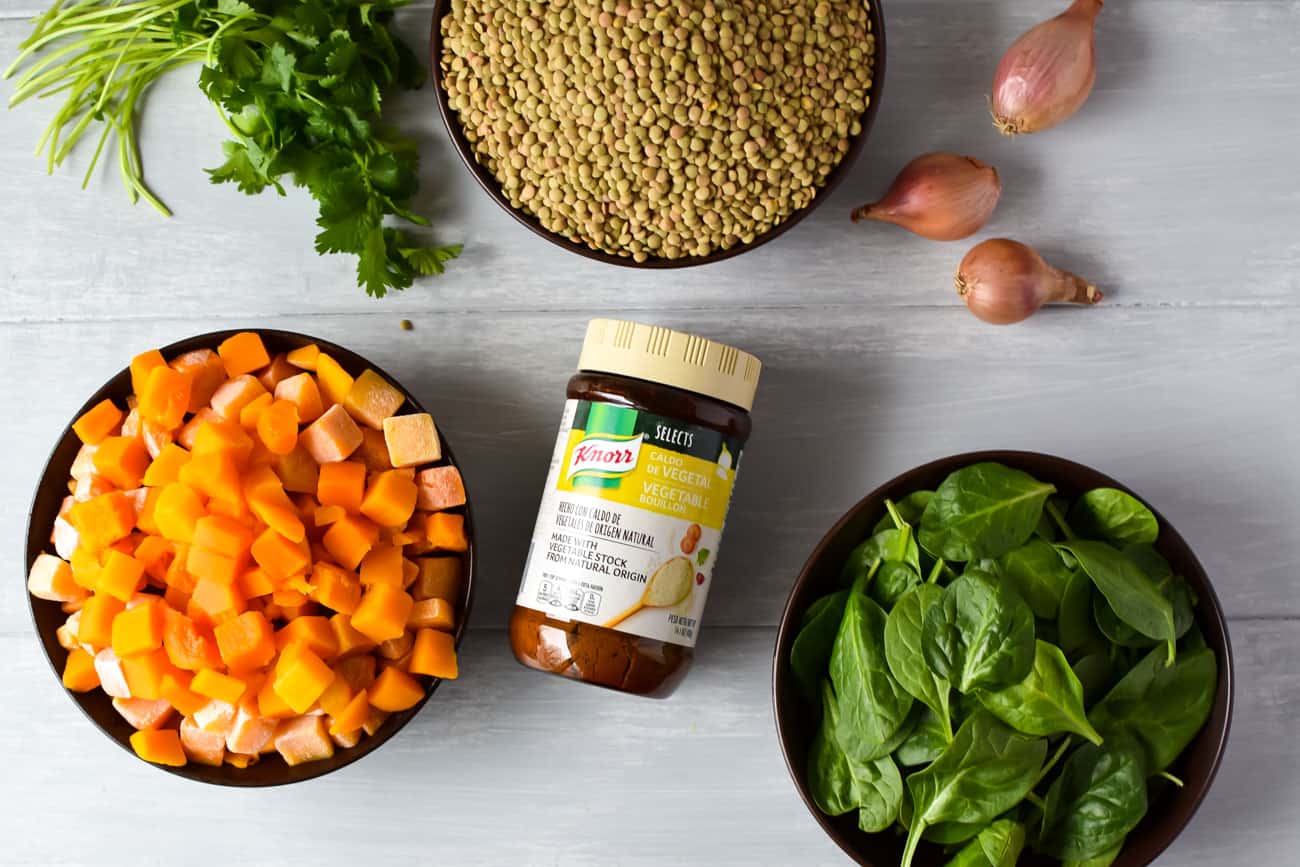 Third, vegetable broth. Specifically made with Knorr® Selects Bouillon purchased from Super King.
Compared to traditional bouillon, Knorr Selects Bouillon is made with 30% less ingredients, a cleaner label and more premium ingredients. It also has no artificial flavors, colors, preservatives or MSG. While I used the vegetable flavored bouillon in this recipe, I used the chicken bouillon in my cauliflower soup recipe, and it's delicious!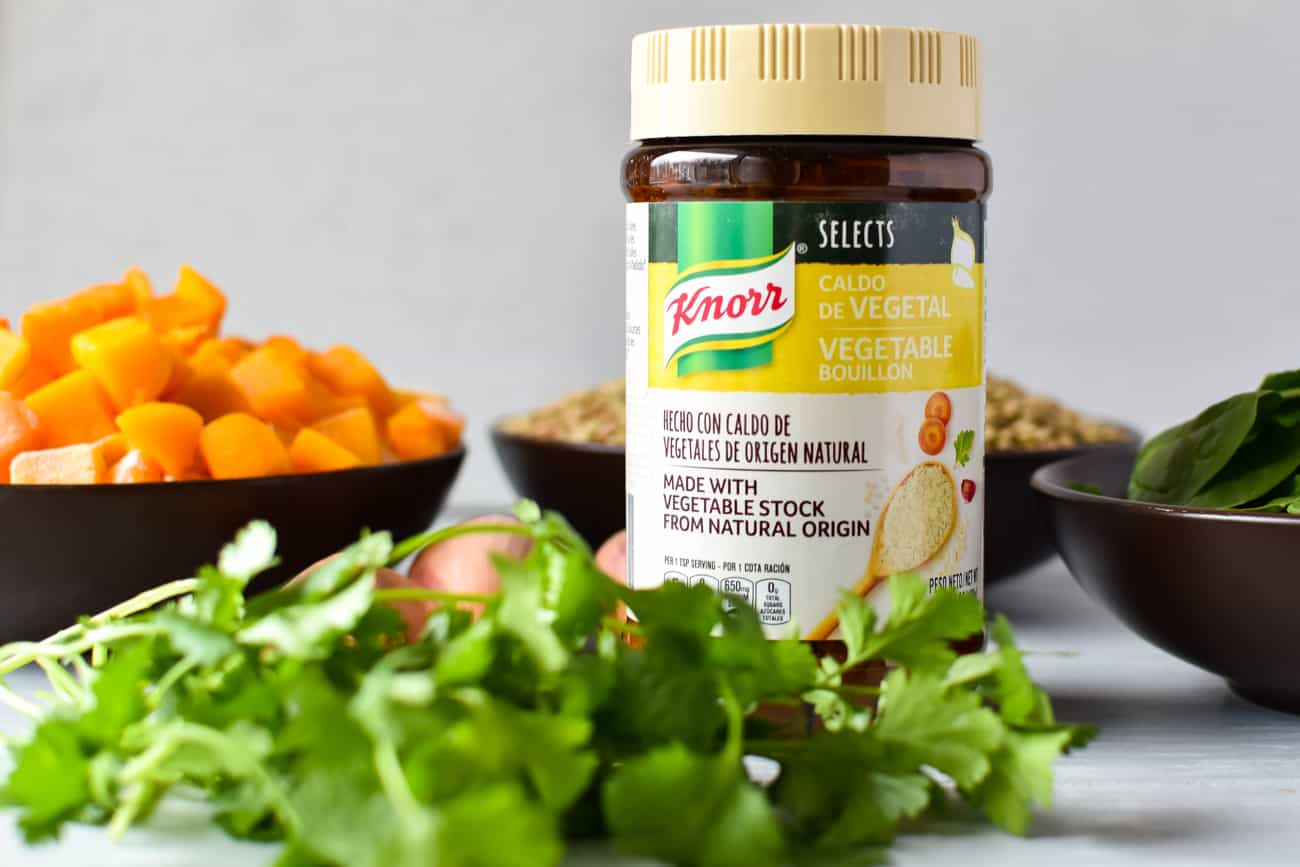 Other ingredients are also important: there's walnuts for an added crispy crunch. Spinach for flavor. My personal additions, cilantro and lime juice, bring the taste of the soup to an entirely new level.
How to make Butternut Squash Lentil Soup
This soup is great because it doesn't require an afternoon of simmering to get all the flavors just right, and everything just goes into the same pot for less mess.
I make the butternut squash lentil soup by heating olive oil in a large pot and sautéing chopped shallots. Then I add lentils and broth and let it cook for about 30 minutes. When the lentils are done, I toss in cubed butternut squash, and more broth to simmer until the squash is cooked.
Just before serving the soup I stir in fresh baby spinach, cilantro, walnuts and lime juice.
Easy, right?
Butternut Squash Lentil Soup Recipe

Butternut Squash Lentil Soup Ingredients
5 teaspoons of Knorr® Selects Powder, Vegetable flavor
2 tablespoons olive oil
2 medium shallots, sliced thin
1/2 pound green lentils
5 cups water, divided
10-ounce bag frozen butternut squash
1 cup fresh baby spinach leaves
1/2 cup walnuts, chopped
1 tablespoon lime juice
1/4 cup fresh cilantro, chopped
Butternut Squash Lentil Soup Directions
In a large pot, heat olive oil over medium heat, add shallots and stir to cook until golden. Add 3 teaspoons vegetable bouillon, 3 cups water and lentils. Reduce heat to medium-low, partially cover the pot with the lid and cook for 30 minutes, or until lentils are fully cooked.
Stir in the rest of the water and bouillon, and the butternut squash to the pot. Simmer for 10-15 minutes, until the squash is fork-tender.
Stir in the spinach and turn off the heat. Add the walnuts and lime juice. Top individual bowls with a sprinkle of cilantro and serve.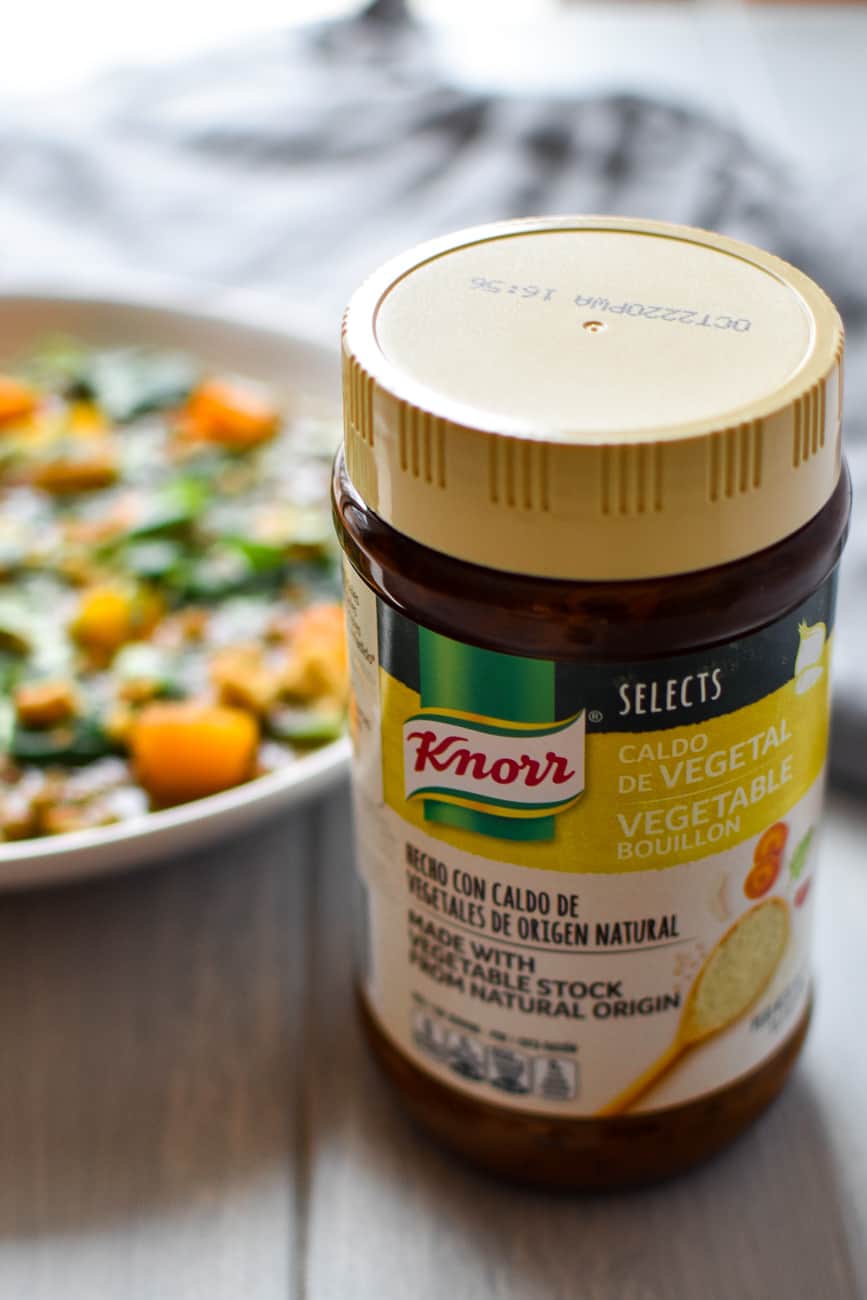 Learn more about Knorr Select Bouillon on the Super King website!