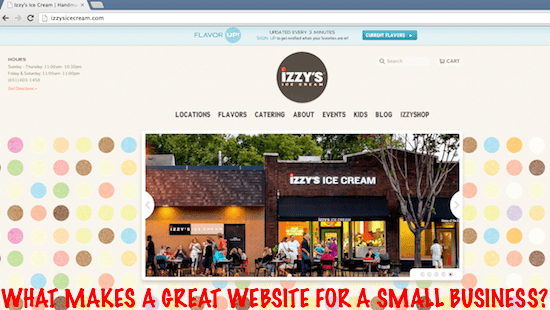 Do you know what drives me bananas? Going into a new small business and finding that their prices are high, the staff is off-putting or the product that's being sold just doesn't stand out.
Then I sort of hate myself when I mentally admonish this new business for not getting it. Not realizing that their little startup company, likely born out of passion or fueled by necessity, is competing in a global marketplace. And that global competition exists even if their only address is a physical one that's just down the street from my house.
At the same time, I feel so, so proud of those local businesses that understand their strengths, capitalize on them and carve out their own space among the thousands of other entrepreneurs in Minneapolis and Saint Paul, Minnesota.
See, I really am rooting for all honest businesses and entrepreneurs to not only survive, but to succeed. In my opinion, the formula for success isn't rocket science, but the smart planning and execution of any business (ie. researching reasonable prices, hiring the right staff, developing the a quality product) requires a lot more hard work and tenacity than many people understand.
One small business that I absolutely love is Izzy's Ice Cream of St. Paul, Minnesota. My husband and I have been Izzy's fans since long before we were married, and there have been many days when I dreamed of their unique and crave-worthy ice cream flavors: Salted Caramel, Dark Chocolate Zin, Cream Cheese or Graham Cracker, anyone?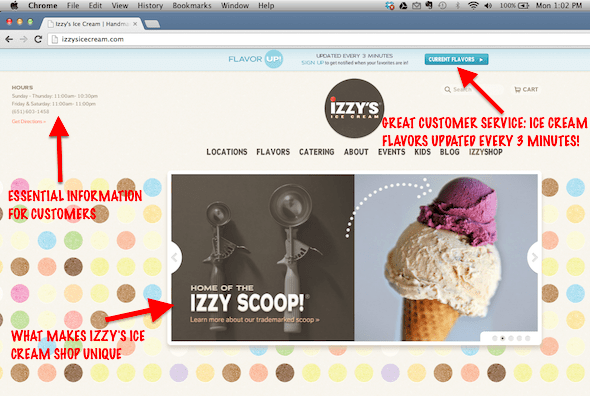 One thing Izzy's really gets right–aside from their genius ice cream flavors–is their website: izzysicecream.com. Though it's evolved a lot over the years, it's a great example of a small business website that communicates everything essential to potential customers.
Want to know what Izzy's is all about? The picture on the front page with the caption, "Home of the Izzy Scoop" shows you the first thing that sets Izzy's apart from the other local ice cream shops.
Want to know events, location or store hours? That's all also on the front page.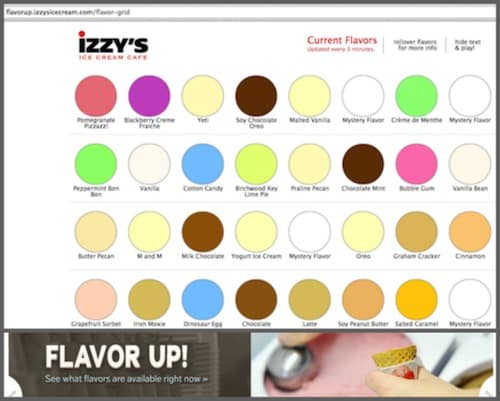 Finally, Izzy's constantly updates their website to show what varieties of ice cream they're currently serving! This is by far the best feature of their website! I'm one of those picky patrons who only wants one of a few select flavors. If they don't have it, I really won't want anything else.
Since Izzy's location is rarely convenient now that I've moved farther away from St. Paul, I love that I can peek into their store and see if one of my favorite flavors is being served before going even farther out of the way when we're in the general area.
As a person who's constantly online, I'm always shocked when any business doesn't have a website. Even something simple with hours and location is better than nothing. That's not to say that they could easily do something even better with a small investment in the right tools!
Know a small business that suffers from No WebSitis? You can nominate them to enter the contest or vote for your favorite. Ten local small businesses will win a website from Go Daddy and you could win a $50 Visa Gift for nominating them!
This is a sponsored conversation written by me on behalf of Go Daddy. The opinions and text are all mine.