I love shopping, I love clothes, boots, shoes, coats, hats and everything in between! I received a number of questions and complements on a few items I wore while in Kissimmee for Brandcation last week, and I wanted to share the details on them!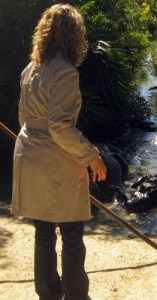 The trench coat I was wearing in this Brandcation experience was a compliment machine! When I was packing for the trip, I think I pulled this coat out of my luggage three times before finally concluding that I needed it to stay warm in case the nights were chilly. Since temps dropped all the way into the 40's while I was there, I'm so happy I decided to bring it along!
It's not the most flattering photo of my backside, but this is what the coat looks like from behind. It was cold that day, so I was very happy to have a coat that was knee-length to keep me extra-warm!
The thing about trench coats is that they're functional, versatile and stylish. I think that's hard to find all in one item!  I picked this one up at Sam's Club earlier in the fall for under $50. It's lightly lined and is made of a cotton/polyester blend.
If you like that trench, I highly recommend heading to your local Sam's Club to see if you can pick one up there. I think half of the Brandcation crew will be heading to their store this week to see if they can find one of their own!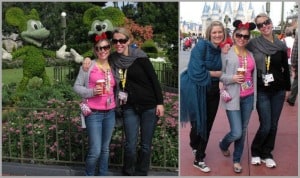 I also must say that bringing an oversized lightweight scarf was an excellent decision. It functioned as a little blanket during my flight, and it came in handy when we went to Disney World. Since we were going to be there all day, I opted to wear a thin wool sweater because I didn't want to bring my trench coat and risk losing it when the weather warmed up during the day.
The grey scarf I'm wearing in the photo above was made from an ultra-soft Pashmina wool that didn't feel scratchy at all. I wrapped it around my neck and shoulders during the cool morning, then stashed it in my purse or a shopping bag until twilight, when the weather cooled down again.
The scarf was a purchase from Zulily when they were featuring One Love scarves.
I love reading about style for different destinations! Read about what to wear in Nashville now!