Free Dr. Seuss books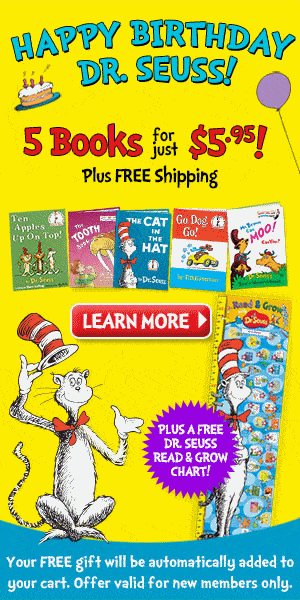 For a limited time, you can get 5 Classic Dr. Seuss books for JUST $3.95 with free shipping! This is lower than the normal price of $5.95 for this great set of books!
This is such a great deal for 5 quality, hardcover Dr. Seuss books. These are definitely some of the classic Dr Seuss books we grew up with!
The five Dr. Seuss books included in the offer are:
The Cat in the Hat
Mr. Brown can Moo, Can You?
Ten Apples Up on Top
Go, Dog, Go!
The Tooth Book
We love all five of those books, but the first three on the list are definitely favorites in our house!
The Cat in the Hat has a current selling price of $5.99. The Dr. Seuss and His Friends is like buying one book and getting four other books for free! Getting all five books for just $5.95 is an amazing deal!
There is absolutely no commitment to keep buying the Dr Seuss books! You can cancel at any time but be sure to wait until your initial order arrives.
Get your 5 Dr. Seuss books for just $3.95 while this offer is available!
As a mom, here's what I love about the 5 Dr. Seuss books that are offered in this deal:
The Cat in the Hat is a classic. I can recite most of this book by heart. It's silly and fun and entertains kids from a very young age. The Cat in the Hat is one of the books that we started reading to our kids as soon as they had the patience for longer books and it's still a favorite.
Mr. Brown Can Moo, Can You? Is such a great book. It helps teach kids animals, sounds and objects.
Ten Apples Up on Top is a wonderful book to teach counting.
Go, Dog, Go is an adorable, excellent beginner book to encourage kids to read out loud. It's also perfect for toddlers to teach colors.
The Tooth Book is a just a simple book that's full of classic Dr. Seuss silliness!