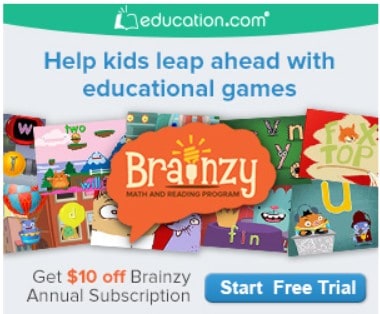 This is a great activity for the kids this summer – it's fun and educational! Head over to Education.com where you can currently sign up for a Brainzy Free Trial!
Sign up today and try Brainzy free for 7 days. Don't love it? Cancel and pay nothing. If you do love it, you can continue using Brainzy for as little as $2.99 per month! That is a great deal.
You'll immediately have unlimited access to hundreds of math and reading games plus teaching videos and stories. Brainzy helps develop a lifelong love of reading by making practice fun.
Brainzy can be played on iPads and on desktop and laptop computers. This is a great way to keep the kids learning this summer, as they have fun! See it now!