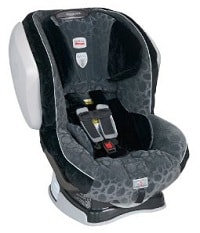 I knew nothing about car seats before I got pregnant for the first time. I don't live under a rock, so I saw them all the time, but I didn't have an understanding of the all the styles, features, benefits and limitations that were involved in car seats until I started researching them for my own child.
Once I started looking around for convertible car seats for my son, it became pretty obvious that Britax was the clear winner in both popularity and safety ratings!
Ever the bargain shopper, I stalked deals until I ended up with this Britax Roundabout bargain (which was one of my very first blog posts!).
I have to say that I love the Britax Roundabout, but the weight limits concern me. It can only be used rear-facing to 35 pounds, and forward-facing to 40 pounds.
I've learned so much about the importance of a 5-point harness, I'm certain I'm going to want my son in a car seat when he's bigger than 40 pounds!
Britax Advocate CS Convertible Car Seat Review
I enthusiastically agreed to have Haiden, my 18-month old, try out the new Britax Advocate CS Convertible Car Seat! I have to start by saying that I did take a few pictures of the car seat to show you what it looks like in action, but I got a new computer and I can't find them! So all photos are from the Britax USA website.
It's pretty clear this car seat means business from the start. The box it arrived in was huge! I asked my husband to bring it in because I was sure I wouldn't be able to haul it in over an icy sidewalk without hurting myself.
When I lifted it out of the open box, it was most definitely the biggest and heaviest car seat I've ever carried. While it's a beast to maneuver, big and heavy is definitely a good thing when it comes to the device that's protecting my child in an accident!
My husband was the one who installed the car seat, but we also took it to a car seat clinic at our local fire department the week after to have them check it out. He secured the LATCH connectors to the LATCH anchors in my Ford Escape very easily.
The Advocate has push-button LATCH connectors to make it really easy to disconnect the car seat. Speaking from experience, the clip style LATCH connectors can be a gigantic pain to both connect and release the car seat! The push-buttons make it a breeze!
The Britax Advocate CS also features a Versa-Tether, which anchors the top of the car seat to two fixed points within the vehicle to give additional stability in the event of a crash.
It's a great feature, but we were both confused by the instructions on it, since my SUV doesn't have the standard tethers behind the back seat.
Luckily, the car seat techs helped us figure it out! It turns out that the Versa-Tether should be attached to the parts of the front seat that are bolted to the floor. After the techs explained it to us, I went back and looked at the instruction manual and it made much more sense to me!
I have to say it again: The Britax Advocate CS is one big, sturdy car seat! It features True Side Impact Protection, which is really amazing when you see how it works. I'm not a car seat expert, and I don't want to misinterpret something technical, so I'm just going to include some of the information from here.
This is what True Side Impact Protection does in the event of a crash:
Distributes crash forces
Shields the child from vehicle intrusion
Contains the head and body
Minimize side to side head movement and literally "true" the head
I don't know about you, but I find that very reassuring!
After all the technical stuff, I'm guessing you want to know more about actually using the seat! The sides of the seat are built out to support the True Side Impact Protection.
While they make the car seat safer, it does make it a little more cumbersome to get Haiden into his car seat. When I lift him into the seat, he has to go around the side before settling into the car seat.
Really, it's not a big deal, but it's different than his other seat, and it was hard for me to get used to it. Once he was in, it was so easy to use the Quick Adjust Head Restraint to adjust the shoulder height of the harness, instead of needing to re-thread it through the back of the seat.
Haiden was immediately comfortable in his seat, and I used the Click & Safe system to tighten the harness.
I know it's really hard to tell when the harness is tight enough but not uncomfortable for a little one who's not always able to verbalize how he's feeling. The Click & Safe actually senses the amount of tension and tells you when you can stop tightening.
It should only be used as a guide, but it's a good guide! I check the tension every time I tighten the straps, and every time it's been right on target. Tight enough to keep Haiden safely restrained without any slack, but still comfortable for him.
I think the only way I know Haiden is comfortable enough in the Britax Advocate CS is because he can fall asleep in it without fussing! I know I'm not alone in thinking that a sleeping toddler on a long car ride is a gift that's not to be taken for granted! So far, he's fallen asleep on every long car ride we've had!
There are so many wonderful features on this car seat that I, as a (sometimes overly!) concerned and protective mother totally appreciate!
I can't get into all of them, but I have to say that I love, love, love this car seat! Besides always being a safe driver, I am confident that the Britax Advocate CS is providing all the protection possible in a car seat!
While I love this car seat, I want to reiterate that I am NOT a car seat expert. Car seats are so important! Please be sure to read all the information about a car seat before making a purchase to ensure it's the right fit and style for your child. If you have any questions, the National Highway Transportation Safety Board has a website where you can find a certified car seat technician in your area.
Want to Buy a Britax Advocate CS?
You can find all the information on the Britax Advocate CS on the Britax website. You can purchase the Britax Advocate CS on Amazon.com. The MSRP is $369.99.
SORRY! GIVEAWAY HAS ENDED!
Contest Details: Contest ends on 2/19/2010. United States residents only. Valid email address is required. All entries without a valid email address will be disqualified. Each person may only submit the form once. Please complete all actions for multiple entries before submitting the form. Duplicate entries will be disqualified, this includes entries with duplicate contact information. Winning email notification must be responded to within 48 hours or that winner will forfeit the prize and a new winner will be selected. Winner will be selected with the random integer generator at random.org. Winner's first name will be posted here at Baby GoodBuys. All questions should be directed to babygoodbuys(at) gmail(dot)com. Entry form automatically adds information to a Google Spreadsheet. This spreadsheet will be saved for contest documentation purposes.
FTC Disclosure: This was not a paid post and honest opinions were expressed. Many thanks to Britax for providing the products to review and give away.