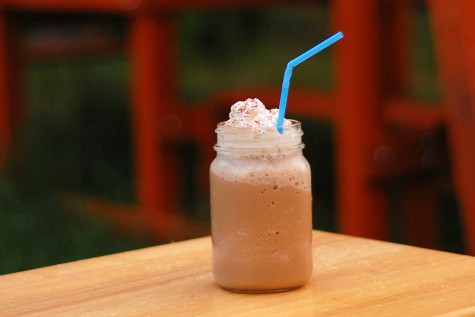 I love a hot mug of coffee in the winter, but as soon as the weather warms up this Minnesota mom blogger can't resist a delicious iced coffee!
While I like even the most simple glass of regular coffee over ice with milk and sugar, a fancier homemade coffee drink will almost always brighten my day.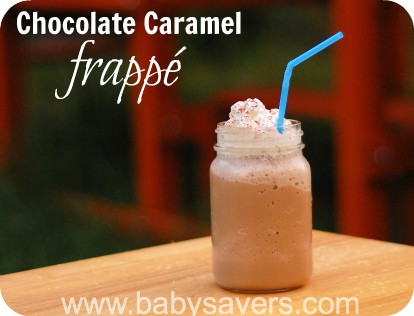 International Delight
is amping up summer with their new Iced Coffee, available in three flavors: Original, Mocha and Vanilla.
I went on assignment to buy International Delight Iced Coffee and flavored creamer at Walmart, then  craft a new and delicious homemade coffee recipe with my new International Delight products.
My first tip: if you're sent to buy a particular item, be sure to look at a picture of the item before shopping for it. I was this close to buying this: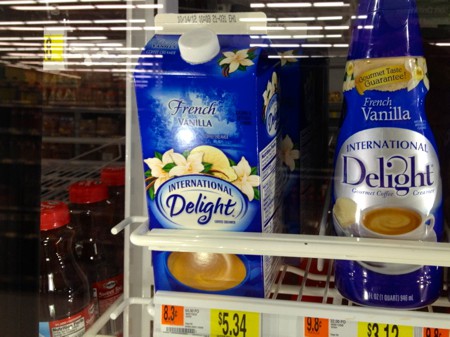 I was all the way up to the checkout area when I realized that I had grabbed a half gallon of International Delight creamer! I turned around, headed back to the dairy case and quickly realized that the International Delight Iced Coffee cartons were in the space next to the creamers: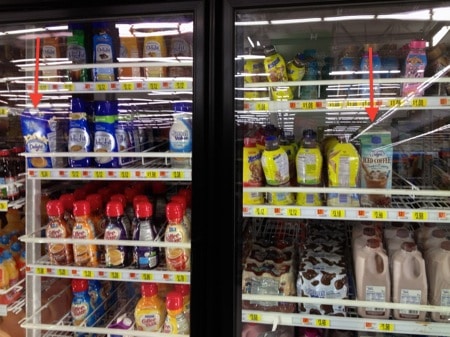 I'm just happy I didn't go home with a half gallon of coffee creamer! I'm also happy that I was able to choose from the Original and Vanilla International Delights Iced Coffees. I grabbed my carton of Original Iced Coffee and also a bottle of International Delight Hershey's Chocolate and Caramel coffee creamer: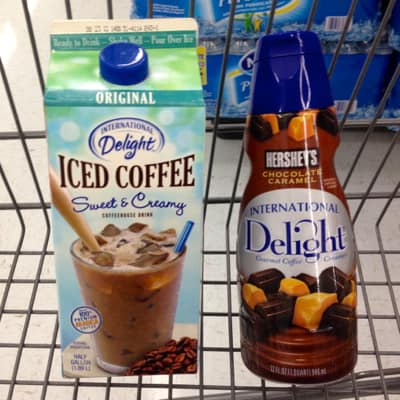 The Intenational Delight Iced Coffee was $3.98 and the 32 oz. bottle of International Delight coffee creamer was $3.12. I paid for both (along with a can of Reddi-Whip) and headed home.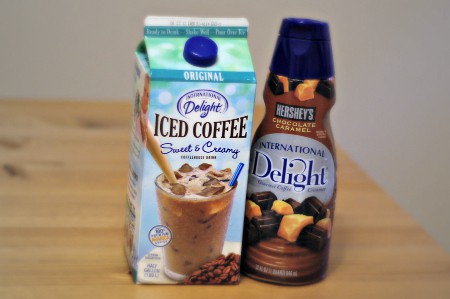 Once home, I took out my blender and started pouring in ingredients to make my special frappe.
Recipe for a delicious Chocolate Caramel Frappe:
Ingredients: 
8 ounces International Delight Iced Coffee
3 tablespoons International Delight Hershey's Chocolate Caramel coffee creamer
1-2 cups ice cubes*
Whipped cream, Reddi-Whip or other whipped topping
Chocolate syrup, caramel ice cream topping or cocoa powder for drizzling/dusting
Directions:
Add the iced coffee, creamer and ice to your blender pitcher.
Blend all your ingredients together until the ice is finely crushed.
Top with whipped cream and garnish with chocolate, caramel or cocoa powder.
*Tip: fill a 16-ounce glass with ice cubes and dump all of them into the blender. You'll almost always end up with exactly the right amount of your blended beverage if you measure your ice in the glass you're going to serve it in.
If you like this recipe please Pin It on Pinterest!
Find out more about International Delight by liking them on Facebook or following them on Twitter. Search for the #IcedDelight hashtag on Twitter to find more yummy homemade coffee recipes!
I am a member of the Collective Bias™ Social Fabric® Community.  This shop has been compensated as part of a social shopper insights study for Collective Bias™ and International Delight #IcedDelight #CBias #SocialFabric.