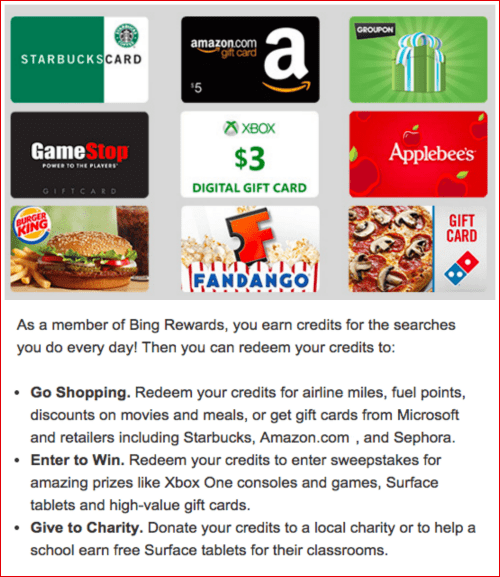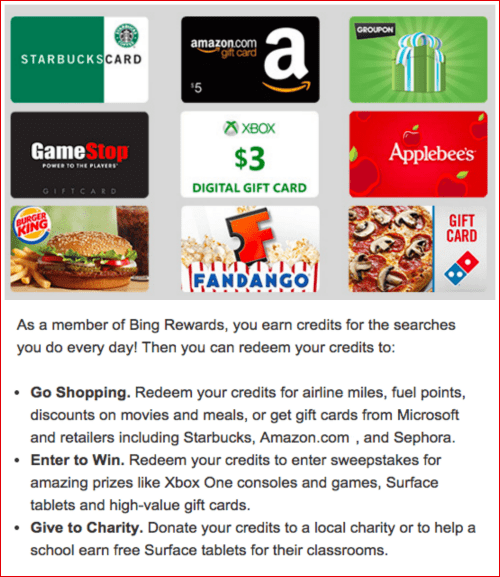 Every time a friend or family member tells me about how they hate "wasting time" on Facebook or playing games, I can't help but tell them, you know, you could be using that time to earn free gift cards online instead.
They usually give me the side-eye and tell me that any website promising free gift cards is a scam. Let me tell you, they are wrong!
There are a handful of legit sites where you can easily earn one or two gift cards each month in just a few minutes a day. As a rewards program owned by Microsoft, Bing Rewards is one of them. 
Here are a few customer testimonials from Bing Rewards users:


The gift cards you'll earn are for great merchants, like Amazon and Starbucks. If you frequently shop at the retailer you get the gift cards for, you'll definitely be saving by keeping your cash in your pocket!
1. How Do You Sign Up?
Visit Bing Rewards and click on the Join Now, Free button. The entire enrollment process will take about 60 seconds to complete. You'll also get 20 FREE Bing Rewards credits just for signing up through this link or any of the others on this page!
Once you're enrolled, you'll see the Bing Rewards dashboard with a list of offers you can complete. I earned over 30 points on my first day from just doing this.
2. How do you Earn Credit on Bing Rewards
Here's the quick rundown on what to do each day to maximize your earnings.
Log into your Bing Rewards account on a computer and do a your searches. You'll earn 30 points per day doing this.
Do the same on your mobile device and earn an additional 10 credits each day.
Check your Bing Rewards Dashboard each day for daily offers to earn additional free credits. Here's what my dashboard looked like today after completing all my offers: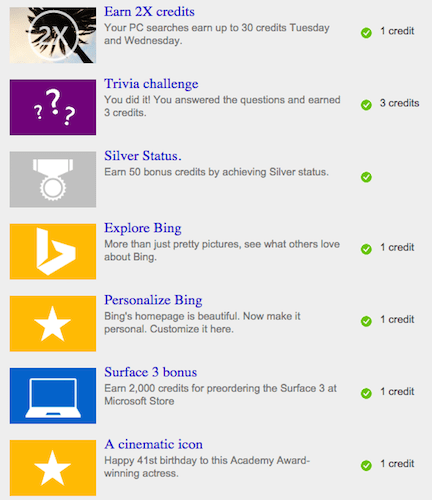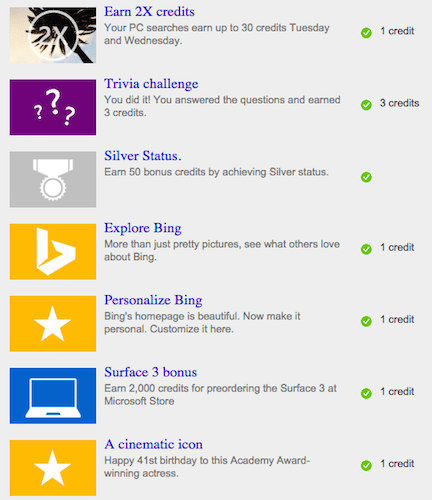 One thing I love about Bing Rewards compared to other programs is that the credits per search aren't random. You simply do your searches, earn your 40 credits and you're done.
3. What Rewards Can You Get with Your Credit?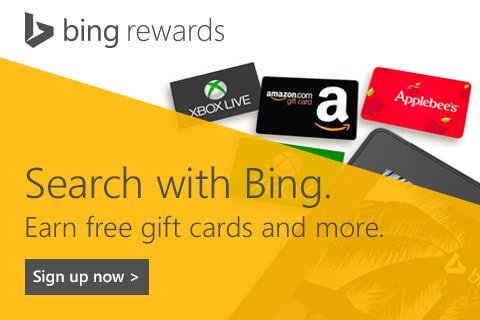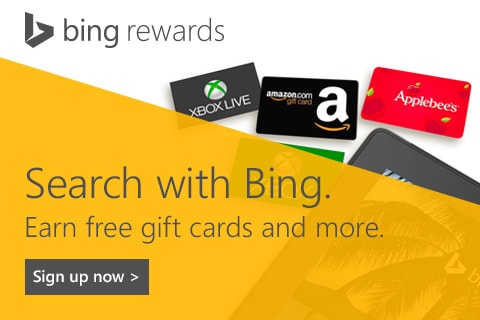 There are a variety of GREAT $5 and $10 gift cards and it takes as few as 420 credits to exchange for a gift card. My favorites include:
Amazon
Starbucks
Toys "R" Us
Macy's
IHOP
iTunes
1 FREE Shutterfly photo book (this is an excellent bargain in terms of credits!)
1 Month of Hulu+
You can also exchange your credits for airline miles and hotel reward points!
Bing Rewards also gives you the option to redeem your credits for charitable donations. There's actually a nice variety of organizations to donate to starting at just 100 credits.
On top of the easy ways you can earn points to exchange for gift cards, now through May 25th Bing Rewards has four sweepstakes offering you the chance to win the following prizes:
100,000 in Big Rewards credits ($900+ value)
A 64gb Microsoft Surface Pro 3
A $500 GameStop Gift Card
A custom Xbox One console and The Witcher 3 Xbox game
In the past, I've used online rewards programs to earn enough in Amazon gift cards for a car seat and a baby gate. Today,  I'm just excited about using Bing Rewards to earn free Starbucks gift cards online!
Will you be using your Bing Rewards credits for something special? 
[maxbutton name="BingRewards"]