Last weekend, I was lucky enough to be in Orlando on a Brandcation adventure!  I had the pleasure of trying out the zipline tour at Florida EcoSafaris. This tour took place in the middle of a massive nature conservatory outside of Orlando, Florida. The zipline was an exhilarating way to experience the natural Florida landscape.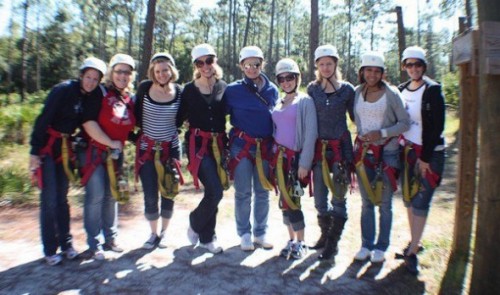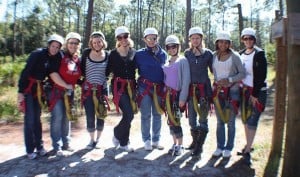 The zipline tour was a much better experience than I anticipated. I'm pretty much a baby in nearly every sense of the word. Even little me with my fear of heights and overall wimpiness found the zipline to be far more exciting than scary. We even got to zipline right over a real alligator! The surroundings were beautiful and ziplining in such a beautiful space was absolutely unforgettable.
Boggy Creek Airboat Rides Review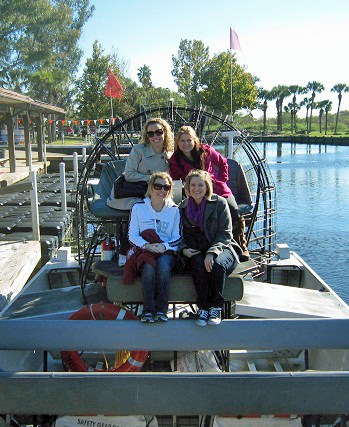 Saturday morning started off with Trisha, Nicole, Maggie and I piling into Trisha's car to head to our early reservation at Boggy Creek Airboat Rides for an airboat tour of the Florida swamps. We were ready to see alligators! Trisha and I programmed the location into the GPS and away we went. We were so excited to be the first ones there that we didn't realize that the rest of the group wasn't going to join us. After another blogger called us asking where we were, we finally figured out that we were at Boggy Creek's other dock and office. Fortunately, the Boggy Creek representative working in the office made a phone call and scheduled the four of us to go on our own airboat tour so we could keep our day on schedule.
It was much too cold to see any gators that morning, but we saw tons of natural Florida wildlife in their native habitats. Our tour guide didn't bat an eye at seeing 4 mommy bloggers, and he did a fabulous job pointing out and naming the exotic birds and animals we saw. Even though our tour group was small, we had an excellent time.
Finally, I just want to quickly mention my personal sponsors who made it possible for me to attend Brandcation:
Colic Calm: Colic Calm is the only homeopathic colic remedy on the market. The gripe water for colic relief is organic and effective enough for the company to offer a 100% money-back guarantee.
Sleepy Wrap: Sleepy Wrap baby wrap carriers help make babywearing natural and comfortable for baby. Made with a unique, stretchy 100% cotton, Sleepy Wrap carriers are the best place after the womb.
It's All Free Online is a one-stop website to find the hottest freebies and samples, in addition to deals and coupons.